Hello and Happy Wednesday! I started my day with an easy 8 mile run (easy as in pace).
Then, I came home and ate a grapefruit while making breakfast…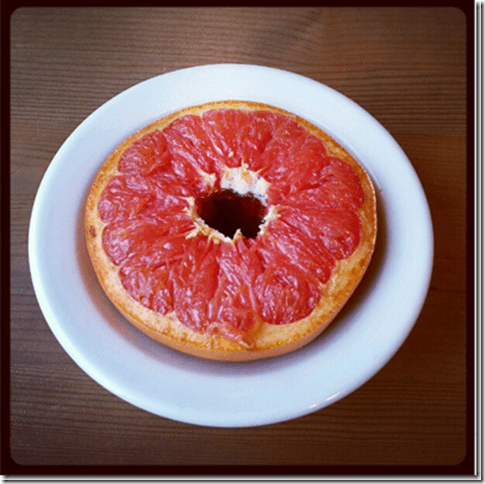 Which brings me to the topic of the day – How do I count calories?
Someone asked in the comments yesterday how many calories I eat. I really don't know. I keep meaning to count for a few days to share with you, but this is what happens in my world…
I run. Then, I eat.
Then, I'm like "I wonder how many calories I just ate…"
Then, I go back and check the label of whatever I ate and since I have it in my hand I eat more. #Fail
So, I don't check.
But I thought I'd do a lil guestimate for today so far and this is what it is:
Breakfast – 1/2 grapefruit, eggs, tortilla, laughing cow, sriracha = 305
Coffee w Milk and stevia = 40
Random nuts and a PB Protein Cookie while making a 2nd cup of coffee = 300
Total for breakfast: 645 calories
Mid-post grabbed an apple from the kitchen = 100 calories
Pre-lunch Calorie Count = 745
I also drink A LOT too,
but outside of champagne  and vodka try to stick to calorie free drinks. (But I drink a lot of these things as of late.)
Question: Do you count calories? Sheep? M&Ms??
Run SMART Goals
Fill out this form to get the SMART Running Goals worksheet to your inbox!