Oh.my.gosh. I woke up feeling 100x better after a full night of sleep. Oddly enough, sleeping in a fancy hotel bed > tweaking your neck on a red eye flight. Shocking.
Last night we had a dinner that wasn't noteworthy blogworthy. Then, I convinced Tina to get fro-yo with me. It was an easy sell
This morning we hit up Central Park again for a run. The weather is perfection for running right now and there were a ton of people out.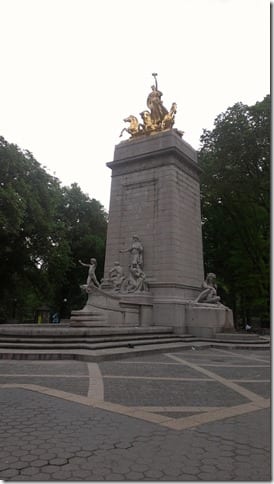 I ended up doing 3 with Tina and an additional 2.7 alone.
Then, I hit up Melissa's Gourmet Deli for breakfast. I stayed near here when I was in NYC last June and remember this place having great sandwiches (and tons of options).
Egg white with spinach and grilled chicken in a ww wrap, grapefruit, iced coffee. Heck yeah I asked for hot sauce packets. #MonicanLikesItSpicy
Then, we got ready and headed to the Mercedes Club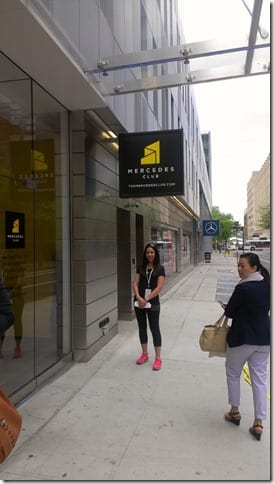 Fitness Magazine organized an amazing blogger Meet & Tweet event called #FitBlogNYC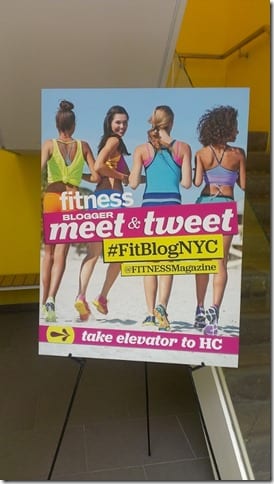 It just worked out that I was going to be in NYC for the WF event so I got to attend! I was excited because Tina went last year and it looked like a lot of fun.
There were A LOT of bloggers here! I feel like the east coast has a lot more bloggers than the west – might be a population thing, might be that they're avoiding me because I'm weird…
Sometimes I'm RunEatRepeat before I'm Monica…
The day started off with an into by Fitness Magazine editor Betty Wong…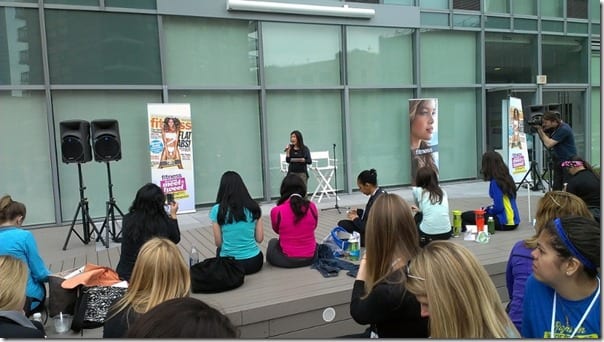 Then, Fitness Magazine Beauty Director Heather Muir interviewed Sarah Lucero, Executive Director of Global Artistry with Stila Cosmetics.
She shared a bunch of great make-up tips like:
Power Pout is hot right now (strong lip color)
Coral Blush – do it
Make sure everything you are wearing has a purpose – don't slap on random makeup (note to Monica, listen up)
She swears by misting for a fresh look
There were also healthy snacks. I grabbed a green juice.
My 'blog is my business' was a super interesting session too. The line up was Smitten Kitchen, Jill Hanner, Possessionista and Erin from Fitbottomed Girls – um, these are the best in the business!
Sadly, I had to leave early to catch my flight. Boo.
It was a whirlwind trip, but so good to spend time with my favorite Bostonian. Thanks Tina!
I hit up the salad bar in the Jet Blue terminal at JFK for lunch. I grabbed a pack of hard boiled eggs from the event and added those the to salad too.
I am soooo spoiled but this is a direct, cross country flight and it doesn't have wifi. First world problems to the max, but I was hoping to get a bunch of work done on the plane. This must be what it was like to live in cave man times…
Oh well, guess I have to read these magazines my RW friends gave me…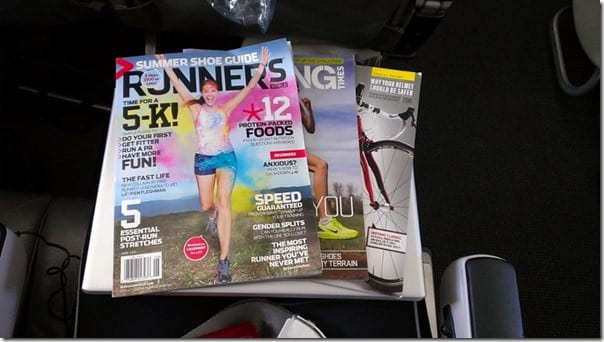 and enjoy some Pop Corners. I love these.
See you later!
Question: Popcorn or Kettle Corn?
I'm going to say 60% of the time kettle corn, 40% regular.
Run SMART Goals
Fill out this form to get the SMART Running Goals worksheet to your inbox!