I don't know where you are in the world, but Summer has reared it's gorgeous head in Southern California!
Which means it's time to put away the long sleeves and running pants and bust out some summer workout gear!
Lately the #1 question I get after every race is
"Why do you keep doing that cheezy runner pose?! I'm going to stop reading your blog and tell my mom you're a ho-bag if you don't stop."
"What shorts are you wearing?"
or
"What running skirt is that?"
I've gotten a lot of emails from readers wanting to know about my longish running shorts to prevent chub rub.
I have 2 pairs each of my favorite running shorts and skirt because they are long enough to prevent thigh rub.
No thigh gap here kids, I am as thick as a McD's milk shake (the fact that I know their milkshakes are thick is probably related to this issue). Anyway, here are my
Summer Running Gear Must Haves
Best Running shorts – Brooks Infiniti Shorts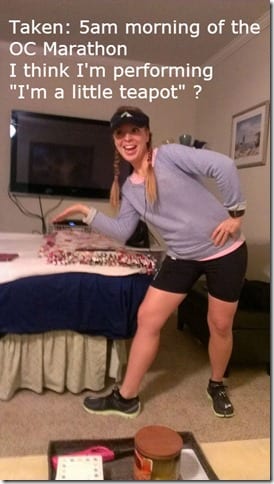 Anyway, I am a fan since they have a liner around the leg to prevent creep up.
However, they don't prevent me from acting like a creep…
Cheaper option – Champion Women's Bike Shorts. I wore something similar from Target here:
Best Running Skirt – Moving Comfort Skort
I have it in pink and black.
 Tip – I actually think it starts to ride up during marathons and prefer it for half marathons or less distance.
Tees – I love anything short sleeves and sweat wicking. I usually don't  dress cute for runs but kinda dig Brooks Run Happy tees because they are fun and functional.
Also, I've been wearing my Run Eat Repeat Spreadshirt tee for races to represent.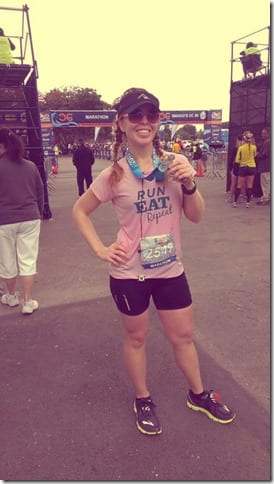 Tip: I don't think the RER tank is great at sweat wicking, but it's cuter. Bah. The shop says it's 'performance' but this is probably best for workouts that aren't going to get you too sweaty.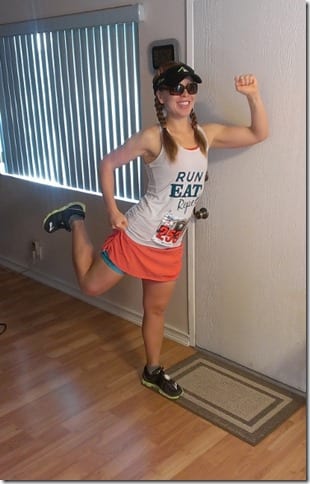 Visors – Any and All. I love them. I heard a rumor that ProCompression is going to be selling my fave visor soon! I'll keep ya posted.
Sunblock – Get some.
Question: What are your summer gear must haves?
*I'm going to add a link to this post to my Running Gear page so if you want to check this stuff out in the future it's easy breezy.
Run SMART Goals
Fill out this form to get the SMART Running Goals worksheet to your inbox!