I am a fair weather friend when it comes to the cold, but I have learned a thing or two about running in the heat. I live in Southern California and visit Florida every June and December so I have had to get really friendly with running in heat waves, humidity and sweating until you feel like you're drowning in your own bodily fluids.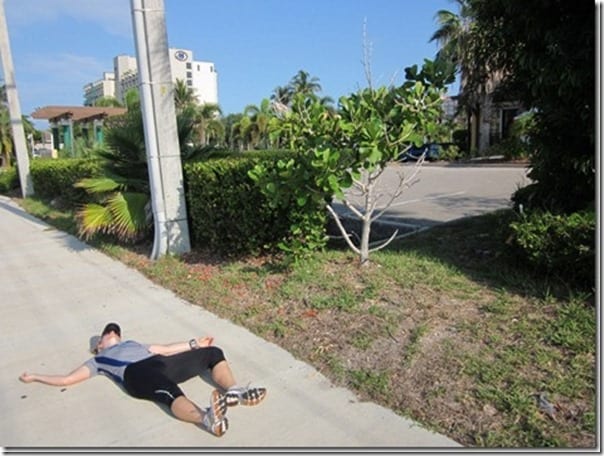 This week I have been on Marco Island in Florida. It's June. In Florida. It's hot and humid. I'm Captain Sweaty Obvious.
The heat I can do, it's the humidity that wrecks me (partially because I am not acclimatized to it at all). It's like running on the equator. Kinda. A little.
The first time I came out to Marco in June I hated running here. I am used to my sweat cooling me off in Cali, not weighing me down like here. It was frustrating. But I had to learn how to roll with it.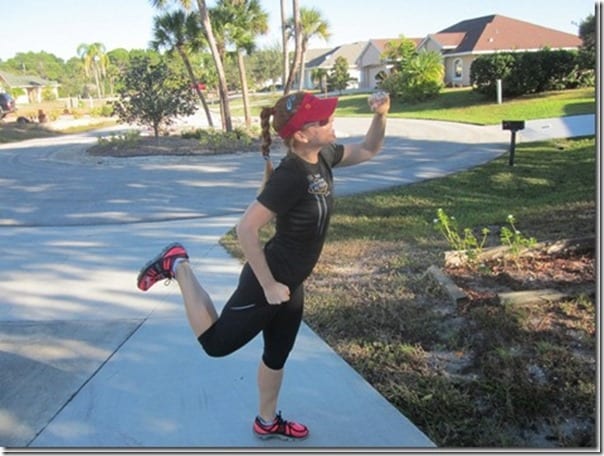 Last week I got a question from a reader about this exact topic. She is frustrated with the heat says she is regressing. Here is a brief version…
"So…I recently found a way to start working in running, got a jogging stroller for the days I don't have baby back up, and am really, really enjoying it! I had my first 5k on Mother's Day and have signed up for a couple half marathons toward the fall. I was making great progress and was just recently up to 5-6 miles, and running 4-5 times a week, which is huge for me!
Well, summer has now officially "bitch slapped" Florida ( excuse my french! ) and humidity is 91% with it being close to 80 already at 6 am. I know you recently addressed summer running, but is there a way to overcome the regression in my training? I am finding now, that when I get to about 3 miles I can barely breathe and just can't go on."
Running in the Heat
When you run in extreme conditions = heat, cold, high altitudes, rough terrain
You are going to run slower.
That's just what it is. And it's okay.
It doesn't mean you are regressing or losing your ability or suck or should retire from running and take up cardio knitting. Difficult circumstances make it harder to run so it feels harder. Hello.
So when you run in the heat (or hills or freezing or …) measure your run by EFFORT not pace or mileage or whatever you usually use.
Random Examples: You normally run 3 miles in 34 minutes.
When you run in the heat you can run out for 17 minutes and turn around and come back in 17. This way you're running for the same amount of time even though you may not make it to 3 miles. Concentrate on EFFORT not distance.
OR
If you normally run at a conversational pace around your neighborhood for 45 minutes … Run at that same effort around the same neighborhood and don't worry so much about how long it takes. Concentrate on EFFORT not pace.
Measuring by effort is important because your body may try to tell you when it's overheating or dehydrating or hurting. Listen to your body!
Remember to pay attention to your hydration and fuel in the heat. But that's another post for another day.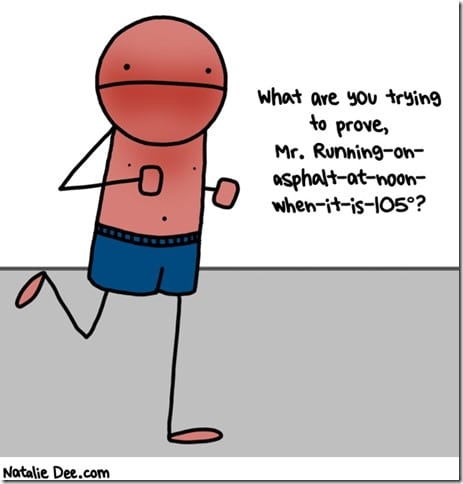 (source)
My drenched arm after today's run…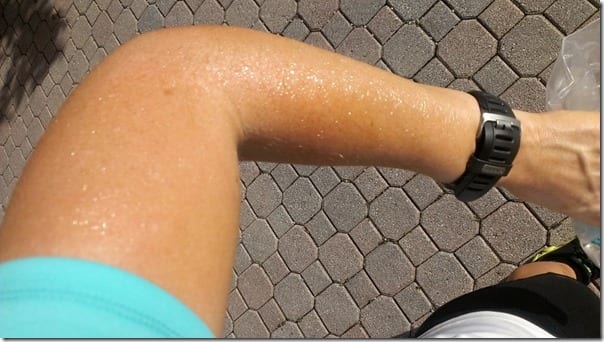 This morning I ran (slowly) around Marco Island. I did a loop I thought was going to be longer, but it was 7 miles. That was a-okay with me as I'd prefer not to die today.
I played a little House Hunters Florida and stopped to take pictures when the mood struck me.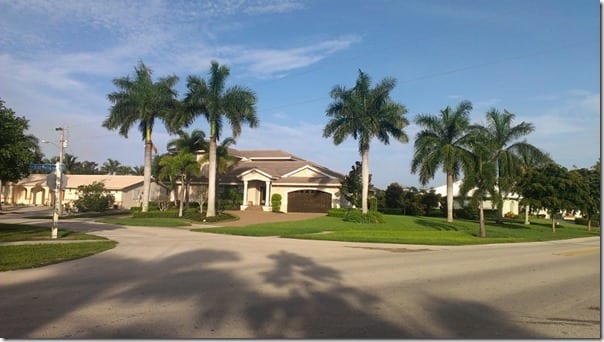 Then, I ate cereal and eggs.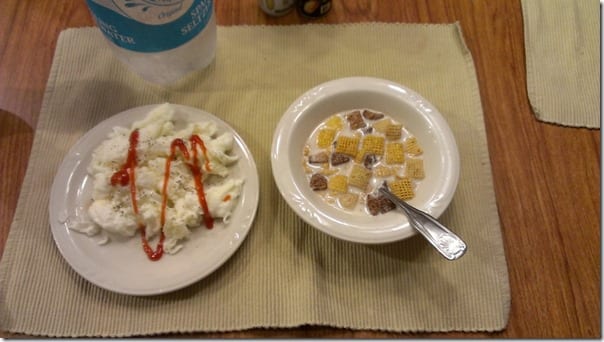 And now I'm enjoying the beach for a few more hours before we have to leave. I'm headed home tonight and then tomorrow morning it's on to CO!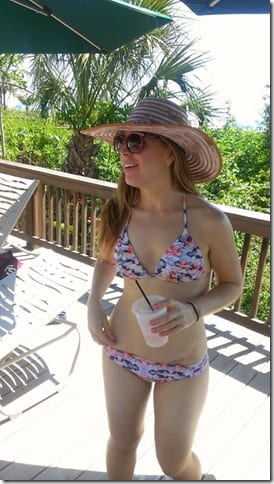 Question: Thoughts on running in the summer?
Disclaimer: Always consult your doctor before starting a new exercise program. Consult your psychologist before running in Florida in June because that's crazy.
Run SMART Goals
Fill out this form to get the SMART Running Goals worksheet to your inbox!