Bright Dark and early this morning I peeled on my ProCompression holiday socks and headed to Oxnard for the Santa to the Sea Half Marathon!
Oxnard is north of LA and about 100 miles from south OC so it was a drive, but totally worth it. It's a fun race, well organized and ends at the beautiful Channel Islands Harbor.
I got there with plenty of time to spare and got straight on a shuttle bus to the start no problem.
First stop – the BIG Santa Clause (you can see him off the 101 freeway year round) to drop off a toy for a tot.
Then, it was almost time to line up. I met reader Willie at the start line – he ran it last year too!
It's a fairly small race (by SoCal standards) so I found the fabulous duo SkinnyRunner and Reese no problem. We planned our race goals = Don't Freeze. It was COLD!!
 SR and I stayed together because she is sick and her death-bed race pace is my PR pace give or take.
Actually, since I ran 13 yesterday I was NOT feeling full of spunk at all. So, we chatted the whole time and it went by super fast! We had a really great race catching up on life, liberty and the pursuit of happiness (aka donuts).
This race is awesome because so many people dress up or at least wear festive colors! There was a full on gingerbread – run run as fast as you can, can't catch me I'm the gingerbread man!
Done in 1:52:04
The finish line festival is pretty sweet because it is GORGEOUS and they give out the most delicious (and I'm assuming local?) strawberries and cookies.
It's so pretty it makes me want to run some more!!! And/or do my obligatory running pose.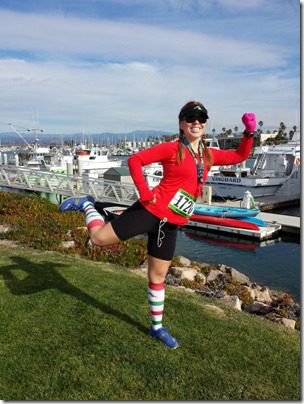 I also ran into Melissa from Trying to Heal at the Finish! It's been too long Meliss!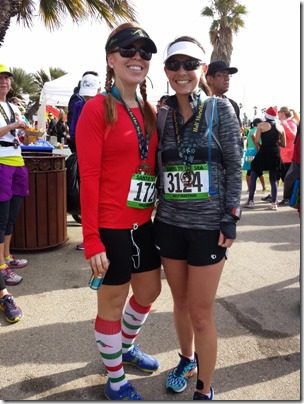 But, I wanted to jam outta there fast since it was freezing. So, we didn't stay too long after the race since I needed to get to my car and WHOLE FOODS.
Who ever decided to make the race parking at The Collection was genius. After the race I changed and hit up the WF hot food bar for sustenance.
Now I am hanging out at my mom's since it's on the way home and she's my mom so I'm supposed to visit because she birthed me. And I have a really big head.
Day 8 – Hold a plank for 10 seconds longer than you held it last week.
I did a quick Instagram video of my efforts until the dog tried to come make out with me.
Question: Did you do your plank?
Disclosure: I was provided with a bib to this race but was not required to do xyz for it i.e. review/actual funny jokes/sit on Santa's lap (not that I'm opposed to that).
Run SMART Goals
Fill out this form to get the SMART Running Goals worksheet to your inbox!