One year ago today two bombs exploded near the Boston Marathon finish line. The attack killed 3 people and injured 264 spectators.
I remember the ugly feeling in my stomach when I heard. My friends were running. I got several calls from family and friends checking on me and my friends.
I wasn't there. But, I felt connected to the people who were. I felt connected to runners all around the world who came together after the tragedy.
Hal Hidgon wasn't there either. But after the bombs went off runners flooded his social media accounts to tell their stories. They wanted to connect, cry, vent and just open up about what they saw that day.
Higdon is a legend in the running community. He has arguably the best known training programs for distance runners online (free!). He has run the Boston Marathon 18 times and covered it several more. And when people reached out he urged a few friends to write a book, but no one bit.
So, he compiled the stories from the runners who were there that day and 4:09:43 was born.
I had the honor of interviewing Hal Higdon last week. I have been a huge fan of his for years. I also had the opportunity to read the book before talking to him. It's very unique and touching – and not just for runners. I'd recommend it to anyone, runner or not.
Hal Higdon 4:09:43 Interview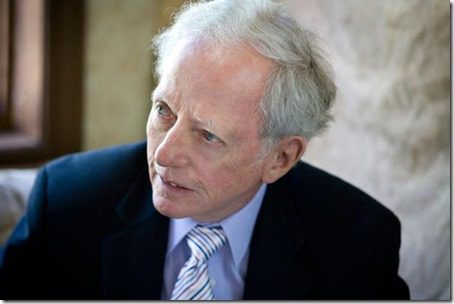 (source)
RER: I know you weren't there that day, but how did this book come to be?
Higdon: I had no intention to write the book after the bombing. But these wonderful stories kept popping up on Facebook. People were sending emails. After the smoke cleared I was worried only a few people would read their stories. 
I wrote it as one runner with 75 pairs of eyes. It's everyone's story.
RER: I have read a lot of the stories and accounts online and it's very sad and scary. Was it difficult for you?
Higdon: It was a very emotional writing experience. I can't tell you how many times it caught me. When people are running into the smoke from the bombs…all the things going around that part…
There was a period when some people were actually opposed to writing a book like this, they thought it was popularizing the terrorists. But, as soon as the book came out people realized it wasn't sensationalizing the terrorists. It is a book very tightly focused on the runners and what was going on between the barricades. The running population has welcomed it very well.
RER: Was there any one story in particular that stuck out to you when you heard it?
Higdon: I have known Michele Keen online for a few years. She pops up on my Facebook from time to time. She grew up in Boston and qualified for the race pretty fast. Last year she was running with a friend Vivian. At one point Michele saw her mom and stopped to hug her. Vivian kept going. They didn't see each other from there.
Michele turned onto Boylston street when the first bomb when off. Vivian was right in front of the bomb. If Michele hadn't paused she probably would have been in harm's way.
RER: Are the 75 runners who shared their stories coming back to run Boston this year?
Higdon: There are a number of people who were hesitant. There was one gal who said she wasn't going back to Boston. But a month or two later she realized she needed a 'do-over'. Not all of the 75 are coming back, some for various reasons like family or work, but a lot of them are.
There were 5.600 people who were on the course and couldn't finish. I think about 4,500 of those are coming back.
RER: What do you expect it to be like this year at the finish?
Higdon: It's common for people coming through the last 100 yards of a marathon to have tears in their eyes. A lot of people have had a journey to get there… they've lost a lot of weight or gone through a divorce. It's an emotional experience. You can imagine how emotional it's going to be this year. It's going to be a street of tears.
You can follow Hal Higdon on Facebook here.
You can check out his website with the training plans here.
You can get an autographed copy of 4:09:43 on his site here.
You can buy 4:09:43 on Amazon here.
Or he can sign it in person at the Boston Marathon expo!
Higdon will be at the Boston Marathon expo this weekend. He'll be at the Human Kinetics booth. Please stop and say hello or sign a book and tell him RER sent ya with love!
Good luck and safe travels to everyone running!
Run SMART Goals
Fill out this form to get the SMART Running Goals worksheet to your inbox!