Hello! Marathon #6 for the year is done! I ran the Mountains to Beach Marathon and here are the results…
I wasn't really sure going into this race how it would go – since I took a week off of rest recently to give my legs a good amount of time to really relax for once. Surprisingly coming back from that I didn't feel rested and strong, I felt kinda crappy. But, I am a weirdo so I didn't put too much thought into it.
Anyway. I brought my standard oatmeal packets to eat pre-race but the hotel didn't have a coffee maker. #Fail
So, I ended up eating a Quest bar – I was a little concerned it would give me stomach issues since they have a lot of protein and fiber (not something I'd usually recommend before  a race) but I was fine on that front! And I love the taste.
I seriously considered bailing on the full and running the half marathon instead. But, the Mountains to Beach full marathon and half marathon have two different start locations so I couldn't. I just rolled with it knowing if I had to bail I'd be okay with it.
Luckily, my legs felt fine the whole race. But I just felt slow and out of shape. I personally didn't have a great marathon. I did what I could and finished it.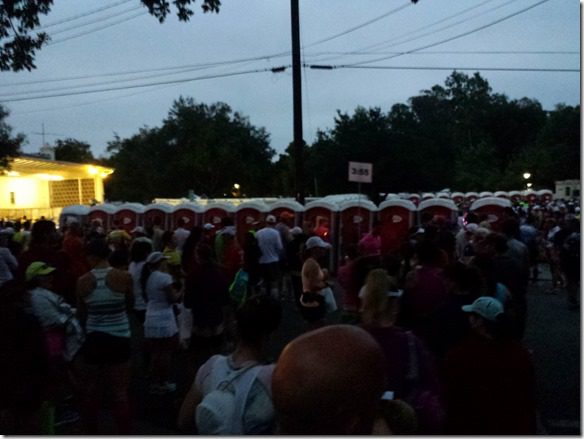 It is a great course to qualify for Boston – the course is super flat and a big stretch is DOWNHILL. There are not a lot of turns and many people are there to fun FAST. It is a more serious vibe than other races and I feel like the majority of runners show up in it to win it. I think this is one of the easiest marathon courses I've ever run! But, it wasn't my day so I didn't have a fast race. It happens, and I'm not worried about it (especially when you run a lot of races quantity over quality style).
Mountains to Beach Marathon results – 3:53:10
Sadly, I saw four people collapsed on the side of the course in the last six miles. I asked if they needed help but each person had medics or at least a few helpers already on it. It's just very scary. These were all more than just a cramp – the runners were down and barely conscious. I know people probably get hurt at every race but this is a smaller race and that was a lot more injuries than I've seen at a race. This course is known for being fast so I suspect these people were 'going for a PR' or something. Either way – please RUN SMART. Take care of your body, your hydration and ask for help if you need it. Thank God for those medics and spectators.
Mountains to Beach Marathon Finish Line…
After the race I tried to take an ice bath in the Pacific Ocean. The waves were a little rough and it was hard to keep my balance. I ended up only staying in for a little bit.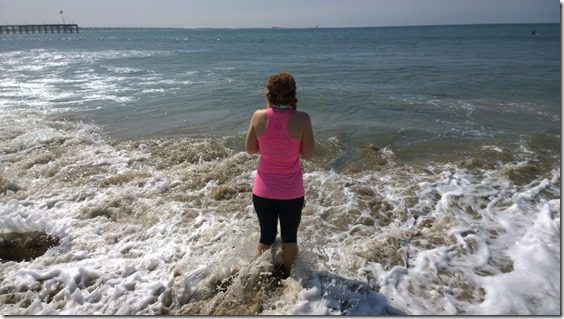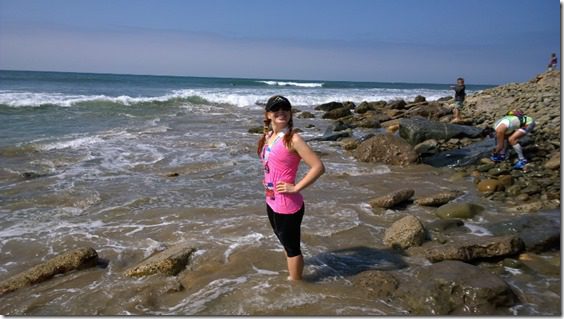 Post-race I wasn't really hungry but knew I needed to refuel. After a drive I spotted a Sizzler calling my name.
This is a salad because there is a piece of lettuce under there…
Time to head to ice cream! I mean, home…
Question: What did you do this weekend?
Run SMART Goals
Fill out this form to get the SMART Running Goals worksheet to your inbox!