Hello! How's your day?
Today is Day 5 of the 25 Days of Fitness Challenge and that means it's time to try something new.
Do a new-to-you workout or take a new walking/running/skipping route today!
I busted out the weights and did some new strength training moves this morning. (Today is a rest day from running for me.)
I also like to 'save' cleaning for a rest day and count that as some extra activity. I was mid-cleaning when I realized it was after lunch time and I should eat asap before anyone (read: Vegas) got hurt.
So, lunch was kinda in the front room since the table was pushed in there for mopping purposes. I know what you're thinking… no one cares. And I'll address your concerns: Yes, I eat out of a mixing bowl. I'm not fancy. No, that's not a whole 2 liter of soda, it's 'just' a soda stream with Crystal Light in it.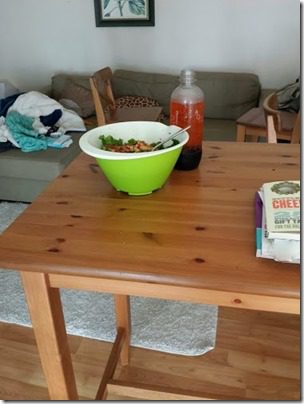 Yesterday… I was on a mission to be super productive. I had to take care of some biz near my mom's house so I stopped to say hello.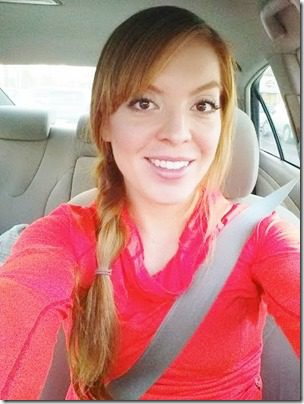 Hello.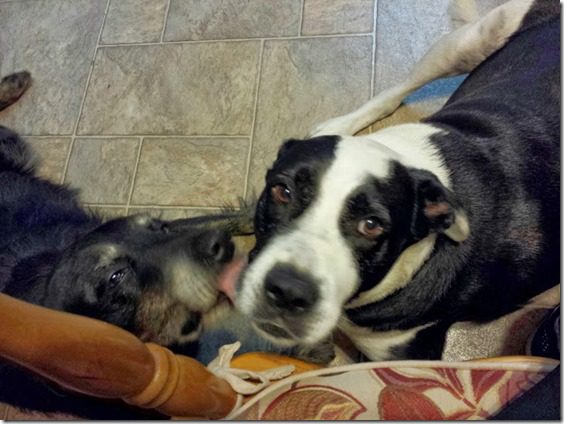 Then, when I got home I baked some super easy Peanut Butter Protein Cookies and added cranberries for fun. (Remember these are healthy cookies, they're not going to taste like Mrs. Field's, but they are good!)
Okay. I'll see ya in a bit.
Question: What are you doing new to workout today?