Running a holiday themed race or fun run this season? Well, it's the perfect time to take your running gear up a notch and sport a colorful holiday inspired costume! The Lexus Lace Up Riverside Race is December 3rd and good time to welcome the holidays with some red and green gear.
Still hesitant? Here are 5 reasons to run a holiday race in costume…
1. Make new Running Buddies…
Dress up like a reindeer and find the rest of your pack… or run in a elf costume and ask other elf-runners what they're working on in Santa's Workshop. It sounds a little cheesy but on race day there are tons of high fiving strangers and random  chatting in the porta-potty line. A fun costume  is a great conversation starter.
The nervous energy of race morning can make us want to talk and connect with fellow runners. And wearing something fun is an easy way to lighten the mood and focus on fun. Even if your new friendship only lasts 6.2 miles (or maybe 13.1) – it makes the race a more memorable experience.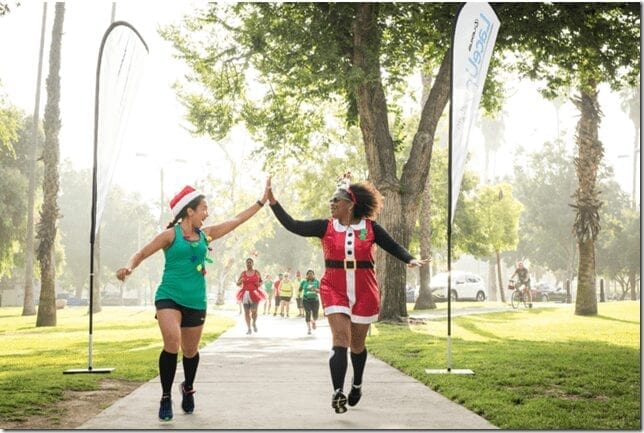 2. Get your money's worth from that Ugly Sweater…
Ugly sweater parties are now a super common holiday tradition. So you might already have one – might as well get your money's worth from it! Feel free to bust it out a second time and wear it for your holiday race this year. Hey, some runs have post-race parties that rival the best holiday get-together. This might end up being the most fun you have in that itchy thing.
Bonus points if it lights up like this one!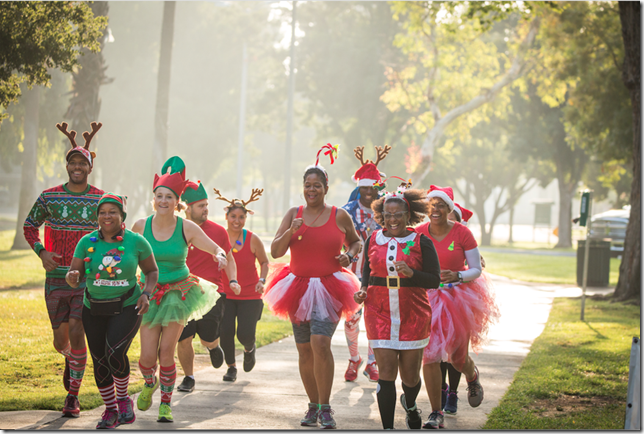 3. One word: Sparkle
There is so much sparkle in holiday decorations… twinkling lights, snowflakes,  shiny ribbons, the star at the top of a Christmas tree… and now YOU! Get in the holiday fun run spirit by dressing up in glittery green and red gear.
Running a race in a sparkly skirt or headband is super festive without necessarily being a costume. So you can wear something like a red or green Sparkle Skirt or Holiday Edition ProCompression socks again and again.
Bonus: It will be easier for your family and friends to spot you as you race by in sparkly clothes  or a light-up reindeer head band.
(source: Sparkle Athletic)
4. It'll put the finishing touch on that Christmas Playlist for Running you've been listening to…
While some people groan at the start of holiday tunes the day after Halloween… it's finally time to embrace Christmas classics – especially songs that are great for running! Add Mariah Carey's 'All I Want for Christmas' and other holiday / workout friendly songs to your playlist and enjoy the gift of running while getting into the holiday spirit.
There are tons of great Christmas songs to listen to while you run! One of the best ones actually has the word "run" in the title – twice! This is Run Run Rudolph by Kelly Clarkson…
And you can channel Rudolph even better if you're running dressed like him!
5. Santa should WIN!
If you dress up as Santa Claus most runners will NOT want to pass you for fear of ending up on the "Naughty List"!
Do not – I repeat DO NOT pass Santa Claus on a run… Apparently that's grounds for sending you straight to the naughty list no matter how good you've been this year. You've been warned. (Or at least that's what I'm telling myself because that guy is fast and I don't think I could pass him if I wanted to!)
Life Hack: If you dress up like Santa Claus no one will want to pass you!
Lace Up Half Marathon 10K or 5K Discount Code: MONICA10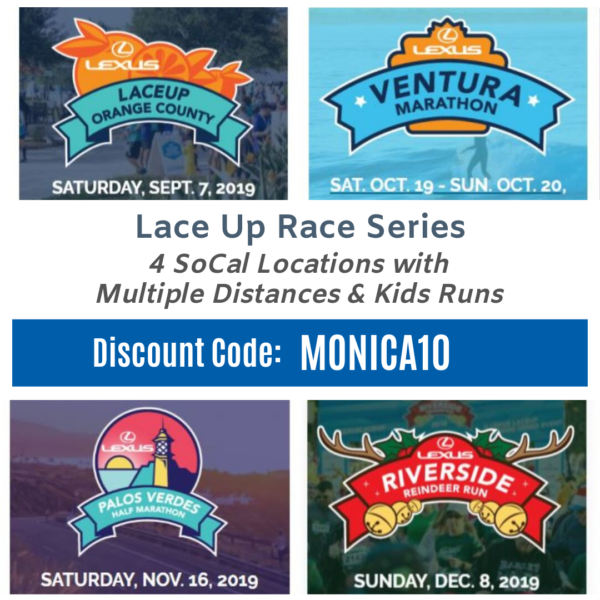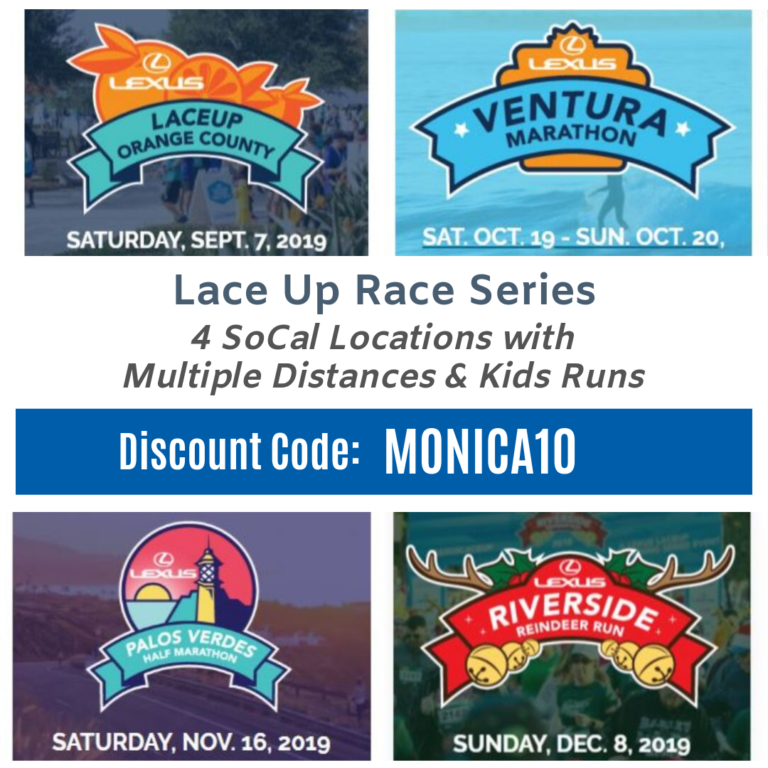 Last call to register for the Lexus Lace Up Riverside Race Dec 8th!! It's their last race of the season! Are you in?
Use code – MONICA10 to get 10% Off
* Register for the Riverside half, 10k or 5k here.*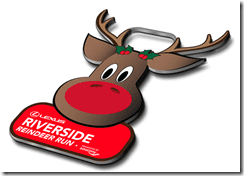 -> And read my recap from last year's Riverside Half Marathon here!
Question:
RED

or

GREEN

? What color would you prefer to wear to a race?