Hello! I made it home yesterday after a minor snag in travel plans. As I was getting on the plane I realized it was going to LAX, but I flew out of Long Beach (where my car was)! I scrambled to text my dad and he completely saved the day and got me to my car when the flight landed.
Whew!
Then, I spent the day washing my gross clothes and cleaning. I only have two days home before I head out to the east coast again. I'm trying to be efficient with my time even though I really just want to sit on the couch and catch up on trash TV.
I'm listening to some of my favorite, but super random tunes while being efficient instead of TV. I never listen to music during the day so I feel all fancy-like.
This morning I did a 4 mile easy run and spent some time with the foam roller.
My back was super tight during the New York City Marathon, but I don't have time for a massage. I'm hoping a little lunch time yoga will help!
Actually, I probably couldn't get a massage right now because I have a thin cut across my entire lower back from wearing my spibelt weird at the race. I had it on backwards and kinda high on my waist since I needed to have easy access to my phone for pictures.
Besides that I feel really good considering I ran 26+ miles Sunday! I did do an ice bath after the race and am sporting some ProCompression again today to help.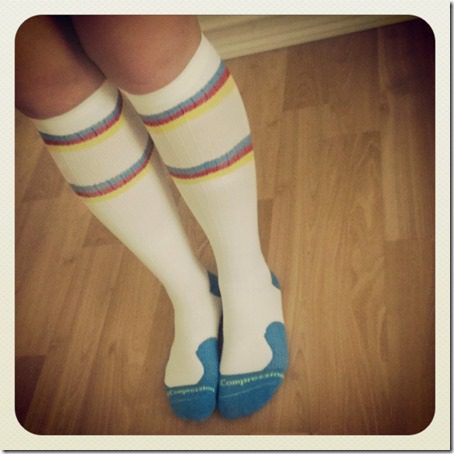 I also think the Cocoa Brookies I made last night are helping me bounce back fast
Last night I wanted a treat, but didn't have anything good in the house. So, I tossed a few things in a bowl to make a min-batch of brownies. Then, I found a few leftover Halloween Reese's in the fridge and decided to chop 'em up and toss them in! Thennnnnn, I decided I didn't want to dirty a pan and made them cookies instead.
Cocoa Brookie Recipe
1/2 cup flour
1/4 cup cocoa
1/4 cup brown sugar
1/4 tsp vanilla, baking soda, salt
1/3 cup greek yogurt vanilla
1/4 cup egg whites or 1 egg
2 chopped reese's pb cups or handful chocolate chips
Directions: Preheat oven to 350 degrees. Mix flour, cocoa, baking soda and salt. Mix vanilla, egg, greek yogurt and sugar. Combine. Add Reese's. Drop onto spoonfuls on a sprayed baking sheet. Bake until firm. Enjoy! I did.
Check it out! Fitbottomed Girls Featured me in their Fit Blogger We Loved series!
Question: Reese's, Snickers or Twix?
This was a hot debate this weekend.