This super easy chicken pozole recipe only requires 4 ingredients. Just throw chicken and salsa in the crockpot and once it's done, shred it. Then, you can add the final two ingredients and BOOM –>  homemade soup.
Authentic Mexican pozole is served up with a variety of toppings on the side. You can pile them up as much as you want. My family's go-to toppings are shredded cabbage, onions, cilantro, radishes and crumbly Mexican cheese. Then, a squeeze of lemon and you've got a delicious, healthy and super easy bowl of soup!
I recently heard that you're not supposed to put frozen chicken breasts straight into the crockpot because they'll be at an unsafe temperature. Hmmm. I've done this for years and it's been fine. But since it was on my mind I took the chicken out of the freezer the night before and put it in the fridge overnight.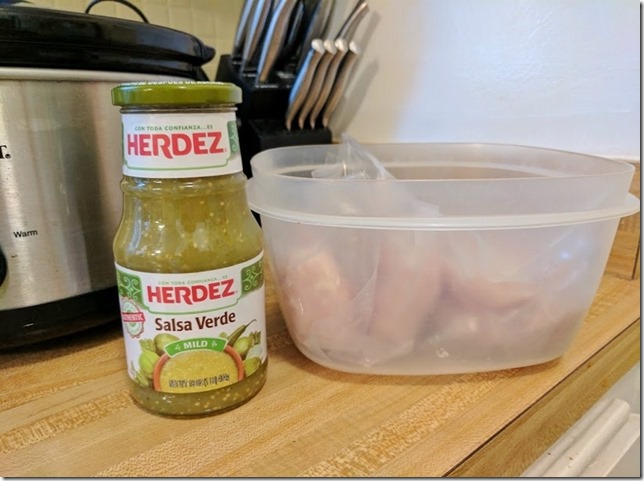 In the morning I put the chicken and salsa in the crockpot on low. I had an onion hanging out on the counter and chopped it up to add to the mix. This is not necessary. I just really like onions.
Cook on low for about 5 hours. Shred chicken by pulling apart with two forks. I shred it right in the crockpot so I don't dirty a plate. Just be careful not to burn yourself.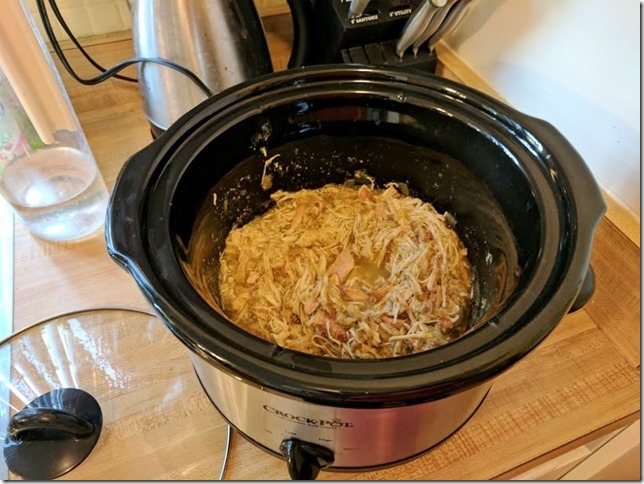 Season with salt and pepper.
Add hominy and chicken broth. Mix. Continue to heat on low for another 30 minutes.
Top with your favorite Mexican toppings… in this case I mean veggies, not tequila.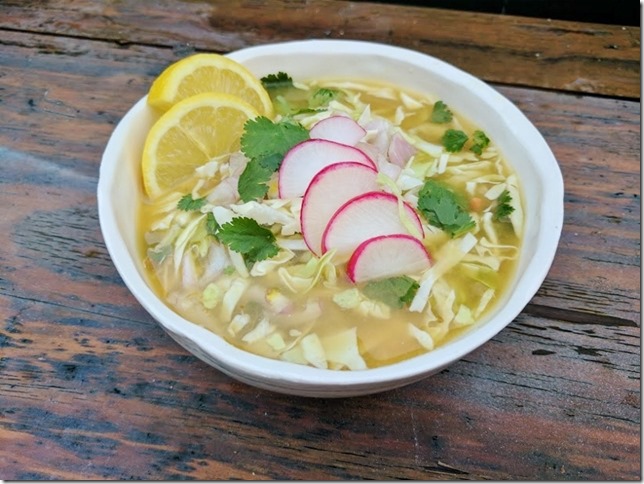 Super Easy Chicken Pozole Recipe
Ingredients:
3 boneless skinless chicken breasts
16oz jar green salsa (I used Herdez, but TJ's has a good one too)
29 oz hominy, drained (1 big or 2 small cans)
4 – 6 cups chicken broth
Toppings: cabbage, radishes, cilantro, onion, cotija cheese, lemon
Directions: Put chicken in crockpot. Pour salsa over chicken breasts. Cook on low 5 hours. Shred chicken.
Add hominy and chicken broth, stir. Continue to cook for 30 to 45 minutes until hot. (Add more or less broth depending on how much broth you prefer.)
Serve with toppings…. cabbage, onion, cilantro, radishes, lemon, cheese.
Question: Do you have a crockpot? When was the last time you used it?