Hello! Happy Monday! Are you ready to rock the heck out of this week?!
Since I ran a lil bit yesterday I am taking today as a mandatory rest day. So, I took a walk to get loosened up…
Then, I did the most love/hate thing to myself = foam roll.
Even though I LOVE being LOUD I don't really scream while foam rolling. I just cuss at myself under my breath. My quads are soooooo tight, but I'm not sore.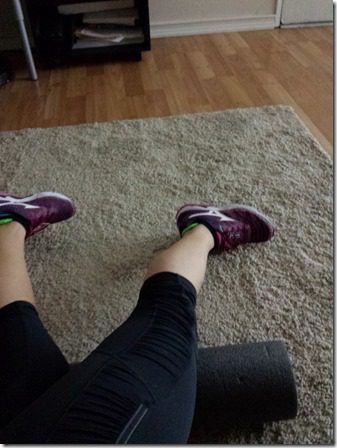 Breakfast! Plus yogurt and an apple because I'm always super hungry after long run day.
My friend and one of my favorite fitness bloggers Gina wrote a book called HIIT It! It's all about weight loss, workouts and healthy eating. Perfect timing for those 'lose 10 pounds' New Year's Resolutions, right?!
In the book she shares a ton of workouts that are a good mix of toning and calorie burning.
Bonus: Great pictures of certain moves to make sure you're doing them right and new moves you haven't tried before.
Gina also shares a ton of her favorite recipes. Her breakfast cookie recipe is basically legendary in the healthy lifestyle blog world…
Leave a comment on this post with your preference:
Cardio or Strength training and you'll be entered to win a copy of HIIT It!
Open to all residents of Earth. Closes 1/7/15 8pm PST.
Disclaimer: Review copy provided by the publisher. All opinions are my own.