The day started off optimistic, I packed up an iced coffee and went to pick up Skinny Runner for a drive down to San Diego. Later that iced coffee would wreck my stomach and that was the high point of my day…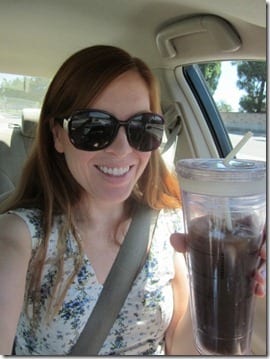 Long story short – we spent 4 hours in the car because of two major accidents. The traffic was bumper to bumper and we were only 1 exit from where we started after an hour?!
Then, we saw a motorcycle guy serve to avoid getting hit, crash and fall right on the side of us! It was very scary, but he was able to stand right up and no one else got hurt.
SR tried to use my smart phone to find an alternate route, but we finally decided to give up and go home. We had to call it a loss on the race, but we'll each run on our own tomorrow to at least get in the miles. She's running the NY Mary too!!!
After hours in the hot car with no sustenance we needed lunch.
But, we're on the Kim Kardash diet = eat Yogurtland everyday so we made the necessary stop.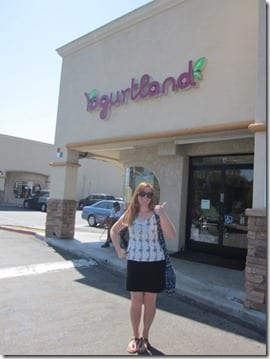 I kept it nutty and fruity.
SR refused to smile. I think she was sick of 4 hours of me insisting we play Truth or Dare in the car. We know more about each other than either one of us would care to admit.
How can you not smile when you have fro-yo?!
I made the necessary stops on the way home – pickles and watermelon.Stay tuned for a special Water Pickle Salad Recipe coming tomorrow!!!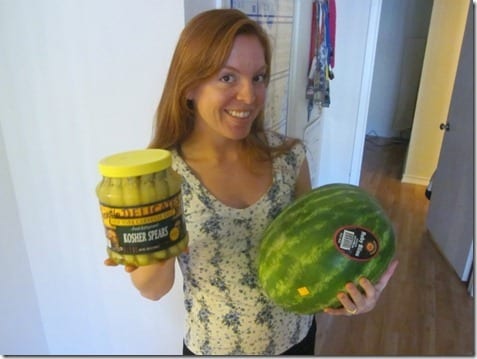 Ben and I spent the evening cleaning and painting the base boards in the living room.
No, we didn't paint them with Mexican yogurt – we just used that as the paint can.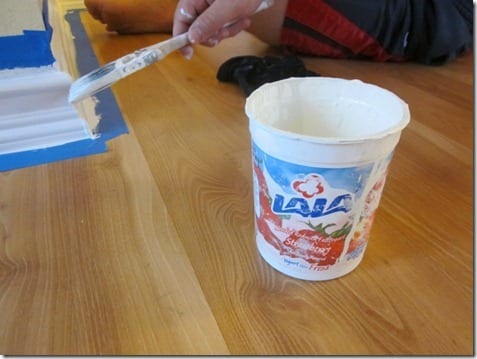 See you later!
Q: Does too much coffee/iced coffee ever mess up your stomach? 
I'm usually fine, but this week it's been bugging me.