Happy Friday! I started my day with a 3 miler, just me – no Garmin or ipod because they were dead.
It's French Toast Friday! I dipped Little Big Bread in egg whites, cinnamon and chia seeds. Topped with PB & sf syrup.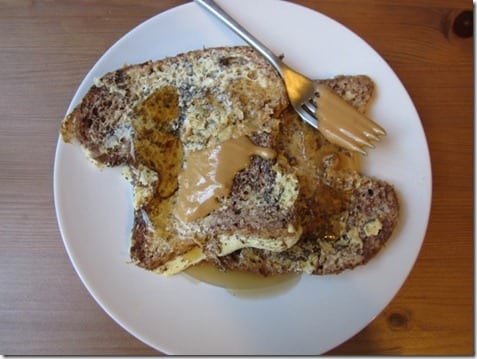 As I was eating I got a text from Skinny Runner that she was in the area and wanted to take a little walk, you know to cool down from the 24 miles she probably already ran this morning. So, I scarfed breakfast and met her for some chatting and coffee or as I call it, choffee.
She was representing for Chocolate Milk's Team Refuel today.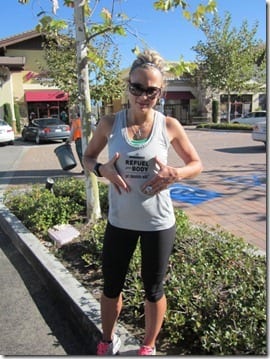 I was representing for Boneheads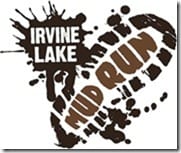 The Irvine Lake Mud Run is on March 31st and I've heard great things about it. I'm not big on mud runs, but two of my cousins and one of my clients are doing the race so I might come out and cheer!
Here's some info:
March 31, the Irvine Lake Mud Run presents "Spring Break at the Lake" at Oak Canyon Park. Southern California's most scenic and challenging mud run is a 5k off-road course traversing trails, and hills, starting and finishing at picturesque Irvine Lake in Silverado Canyon.
The Mud Run features professionally built obstacles including jump walls, ramps, crawl tubes, a mud slide, water drenching experiences, and more mud pits than any mud run in the world.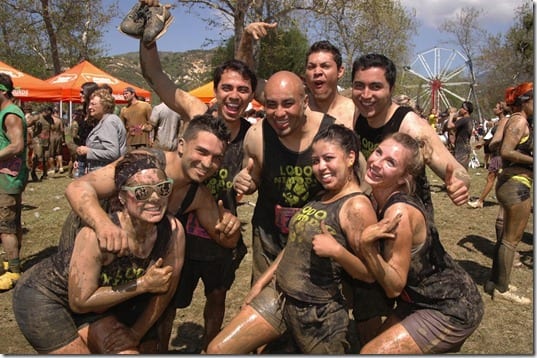 The Mud Run has offered a free entry to one RER Reader! To Enter leave a comment on the post – any comment, keep it clean – or muddy. Either way.
Please make sure you can travel to and attend this race in Irvine, CA on March 31st. Contest ends Sunday 8am PST.