I started this little ol' blog after I met the guy I'd marry one day. But, before the blog and before Ben I went through a really really hard break up. The kind of break up where you think your life is over and you do embarrassing things to get them back and you make everyone around you think you need counseling and/or new friends. Ouch.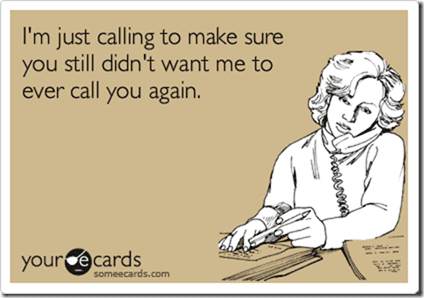 I was with my ex 4 1/2 years. We met when I was a freshman in college. I thought we were going to get married. I was young and dumb and full of –.  I crumbled to pieces when we broke up. It was bad. Obviously, I got over it but I do still feel that familiar deep pain when a friend goes through a break up. I get it. I've been there. It sucks.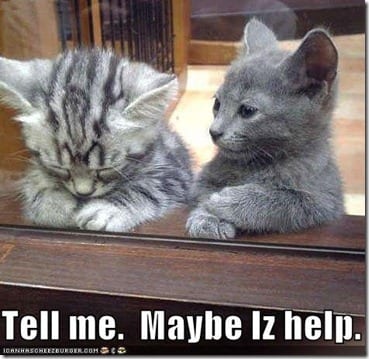 I've been meaning to put together a post like this for a long time and I received an email today that finally gave me the push I needed. Here's part of the email:
Hi Monica,
I'm a big fan of your blog. I started reading health and fitness blogs a few months ago and I've really fallen in love with yours! You're so friendly and helpful and approachable. It's really inspiring.

Well anyways, I don't know what experience you have staying healthy after a break up, but I could definitely use any advice. My boyfriend and I recently broke up and I just moved out of our apartment we shared together this week. It's been a devastating break up. We were together for over 2 years and had plans to get married one day.  Not only am I sad, but my life has been hugely inconvenienced by the move. Now my commute sucks. The break up has been about 4 weeks now and I've been totally emotionally eating. Completely aware and not caring.

I started doing the couch to 5k program in November. I haven't been consistent but I've been sticking with it. Even after a 2 week break over the holidays, I got back on the road again yesterday and was so happy I did. I'm glad I'm still running and trying, but I don't know how to shut up the voice in my head that drives me to eat cupcakes! I haven't had a sweet since Tuesday when I moved so I'm really happy about that. I want to keep my streak going and I need to prepare for when I get weak and overcome with sadness again.
Wow, that was really long- sorry! Well now that you have my whole life story… I could use any advice you can throw at me 🙂
Thanks for writing and sharing you with all of us! Have a happy day!
Breaking up sucks. Even if the break up is really for the best it's so difficult to deal with the grief of losing someone who was a big part of your life. And when you're dealing with crappy situations it's hard to stay healthy.
First off, I read "It's Called a Break Up Because it's Broken". Yes, it's cheesy. But it did offer some very obvious and realistic advice (that for some reason you can't see on your own through the fog of emotions).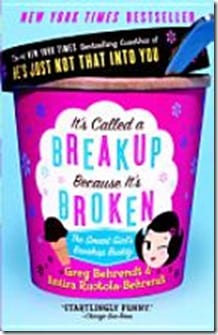 Then, give yourself full permission to mourn for a while. Depending on your life circumstances, find this time where you can. But, go ahead and be sad and cry and scream and tear up pictures if you have to. Seriously, go ahead I won't judge. Just don't do anything embarrassing like write on his/her Facebook wall that he has the herp. Unless he does
Now that you're dealing with a sad situation I understand you might not want to exercise or eat right. But, if you're sad you really need those exercise endorphins more than ever! You need to exercise for your emotional health more than your physical at this point.
That's why I put together this "Get Over Your Ex Mix" of songs. Load them to your phone or ipod or whatever, crank it up and walk it off!
Get Over Your Ex Mix
Warm up: (walk or slow jog)
Adele – Someone Like You 4:45
Beyonce  – Irreplaceable 3:52
Run it off: (bring it to a comfortable pace)
Kelly Clarkson – Since You've Been Gone 3:09
Pink – So What 3:35
Alanis Morrissette – You Outta Know 4:09
Beyonce – Single Ladies 3:13
Cool Down: (bring it back to a walk or slow jog)
Cee-Lo Green F**k You 3:43
Then, stretch out and think happy thoughts. *Option B is to just crank these songs in your room and dance it off!
When you start to feel down call a friend, watch a funny TV show or read funny stuff on the internet.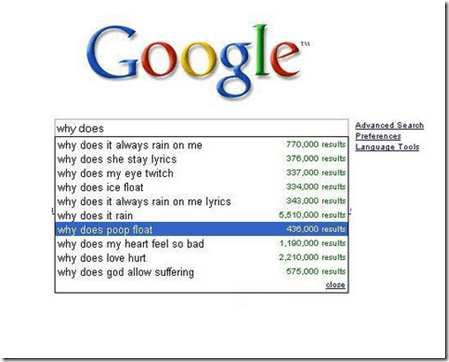 Or may I suggest a fun blog?
Question: Anyone else got advice for staying healthy when you're going through a break up?