I casually mentioned that I was starting my new job today. I don't really want to talk about it too much since I'm not sure if it's cool with them for me to talk about, but I can tell you I'm working as an Office Administrator in Orange County very close to my soon to be new condo 🙂
The position is 30 hours a week so I will have time to pursue more writing work and finally finish studying for my Personal Training Certification! This job choice is a strategic move for all my new pursuits – including having set time dedicated to RER.
What this means for RER:
– For the next three weeks my week day posting may be late. Hey, better late than never, right?! (Please say yes.)
– My eats will now be more "real" in that I think "real life" for most people means eating on the run/at work/with time constraints. I'm hoping to show more healthy packed lunches and lots of snacks.
– I will respond to emails and comments twice a day and set a schedule for getting back to everyone within 24 hours. Thanks for your patience.
– I may actually have pics on the blog where I put on make-up and dress decent. Well, at least at first…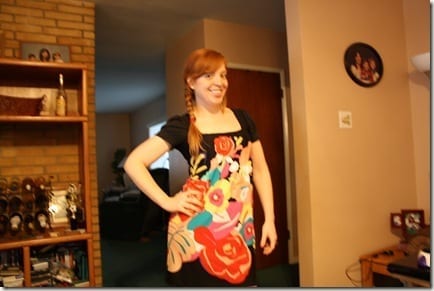 I'm excited to finally get settled in California, but that won't really happen until August when we move into our place. For now Ben and I are carpooling together from my mom's. Company definitely makes the ride more pleasant.
Before I went to my first day of work I did 4.8 miles. It wasn't the best run, but it wasn't the worst? That's that.
Breakfast was a Perfect 10 bagel with LC cheese and an apple.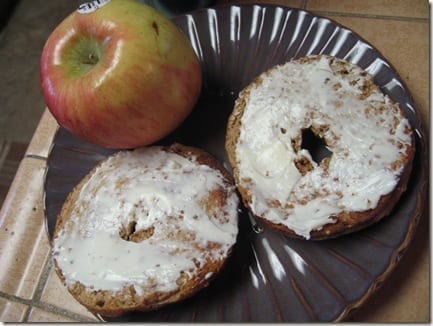 When I got to work my new co-workers brought me a "Welcome donut". I ate half and then jumped back on the CFW challenge.
Then, I spent the day learning a bunch of new stuff. Even if it's not hard work, new work can be overwhelming. I think I'll be okay though 🙂
I ate lunch while waiting for Ben to come pick me up. He had dropped me off at work, but I needed the car earlier so we had to switch.
Check out my new lunch bag and massive bottle of water! Love my new lunch contraption.
I pack this thing full of goodies! The stretch factor helps me stuff more snacks in there!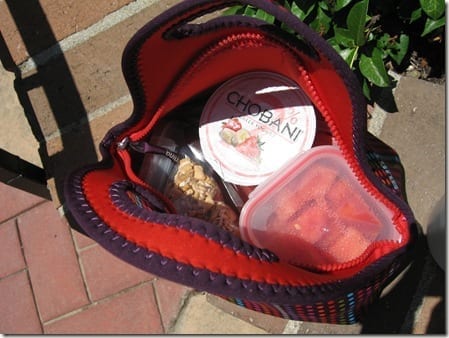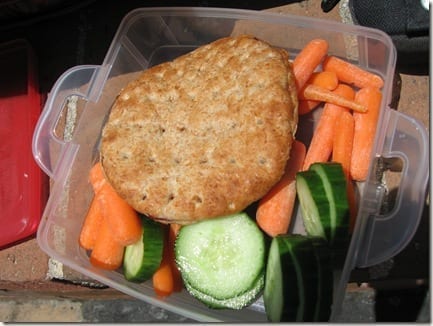 Plus a Chobani for protein.
Mid-afternoon I had some cherries. These cherries are amazing, I need to find that cherry vendor again!
After work I ran a quick errand before picking up Ben from work. While errand-ing I had some almonds and cereal. These packets are almonds definitely hold off my hunger better than any 100 cal pack of cookies.
On the l-o-n-g drive home I had one random thing on my mind – TUNA. I was on a tuna mission and the first thing I did was crack open a can and mix it up with mayo, relish and mustard.
I made it right in my salad bowl and then added lettuce, onions, tomatoes and hummustard. 
I really want dessert, but I need to dig one up that doesn't have sugar. Darn, Crap Free Week!?!
Ben's Random Comment of the Day:
Me: "My laptop is too big to carry around. Should I get an iPad?"
Ben: "I think we can find a better way to spend $500. We should get an iCouch or an iTable first…"
Ha! It's funny because we don't have any furniture at all 🙂