I have a pile of dirty clothes in my suitcase, a pile of emails to catch up on and a pile of wrappers from all the gum I've chewed today to get to (okay that last one isn't really relevant).
The point is, I don't want to spend time cooking dinner tonight when I can be doing other things. So, I knew I had to make a crockpot meal tonight.
In true Monican fashion I wanted something super easy and weird. I had ground turkey to use and googled around for ideas but the only thing I found was turkey chili recipes. Nah. I wasn't feeling it.
So, I made a recipe up and decided on a spaghetti style meal. Instead of noodles I used broccoli slaw so this recipe is Gluten Free / Paleo / Insert the Diet of the Week friendly!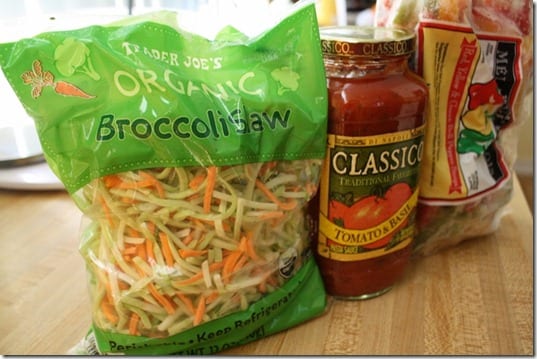 1. Cook onions and add ground turkey. Add minced garlic, S&P and cook through.
2. Bust out the crock pot (or slow cooker? I don't call it that)
3. Mix ground turkey, broccoli slaw, jar of pasta sauce and bag of frozen bell peppers in crockpot. Add salt and 21 seasoning salute to taste.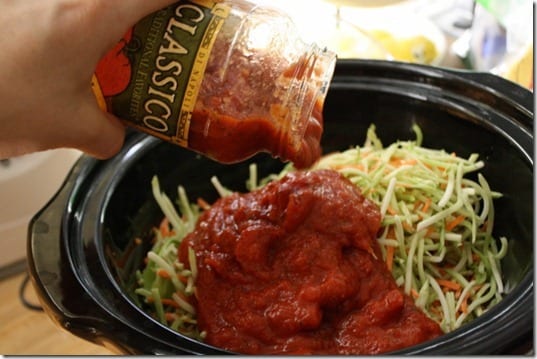 4. Set on low for 4 hours.
Stir and eat!
I added parmesan cheese on top (love that stuff).
Oh.Kay. Did you watch Real Housewives of New Jersey last night?
I don't know if it's just that I don't want to believe Teresa is that manipulative or what, but I think Kim set it up. Either way, I don't care if Melissa was a stripper. Do you?
I do think Teresa would be impossible to get along with. She seems completely disconnected from reality and really believes that Melissa is the one ruining her relationship with her brother. So frustrating.
Thoughts?
If you missed it, it's probably on reruns all week or you can read this recap on Hit Fix.