Hello! How's it going? Today I'm getting excited for my upcoming races and trying to decide between two costumes. I'm probably going to go with the easier to wear one. It's not very exciting, but at least I'm playing along, right?  Right.
I've dressed up for a lot of races at this point in my running / eating / blogging life. And I've learned a lot of lessons along the way. So today I'm sharing some tips on choosing a good running costume for a race. Or I guess you could use these tips if you like to dress up just to run around the block. (Just don't blame me when your neighbors call the police.)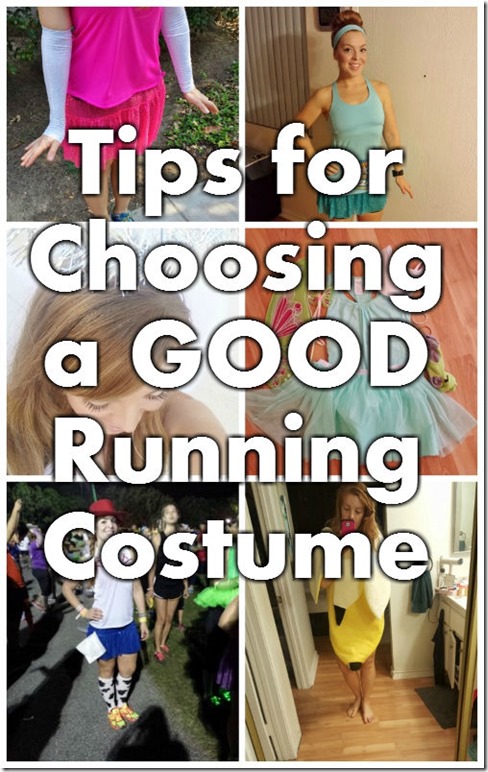 Tips for Picking a Good Running Costume…
1. Make sure you can actually RUN in it. Check your stride and make sure your legs and arms can move appropriately. That's part of the reason I won't be wearing the pink crayon costume – I can't really open up my legs to stride. It would be more like a waddle run situation.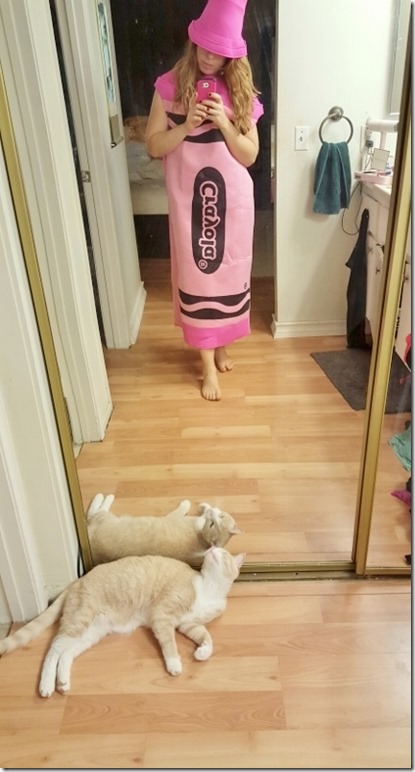 2. Make sure you can SEE in it. The only thing worse than wearing a mask while running is FALLING while wearing a mask and running.
I usually vote for 'safety third' but in this situation make sure your vision isn't blocked and your peripheral vision is open too. When you're racing there are people coming up on each side of you, security giving instruction on which way to go and/or other safety precautions that make it important to be able to see clearly.
3. Make sure you can BREATHE. Along the same lines as #2 make sure nothing is obstructing your breathing.
It might not be the best idea to wear a corset or costume from your third grade Halloween party if it's too tight to allow for your lungs to expand like normal.
Damn. I guess my kindergarten cheerleading costume is out.
4. Consider how it will feel at mile 7.
Are you going to hate yourself for wearing thick footed pajamas and holding a huge baby bottle? Is your mummy costume going to unravel and leave you half nekkid? Do you have to hold a giant pitchfork as part of the costume?
Think about running in your costume for xx amount of miles realistically.
I was actually going to be a lady bug at first but then decided I didn't want to run with wings this time around. (I've done it before as Tinkerbelle and it wasn't that bad as long as you pin them to your top too, but I'm not feeling it this weekend.)
Plus, Vegas really hated the costume for some reason and kept batting at it…
Tip: Consider what running gear you can incorporate into the costume. SkinnyRunner actually spray painted an old pair of her running shoes yellow for this Minnie costume. This way she didn't have to swap out her usual kicks for mouse slippers.
5. Who cares. Have fun.
As much as I am giving you tips for running in costume, I LOVE seeing fun costumes at races so my final vote is to just go for it so I can enjoy the parade.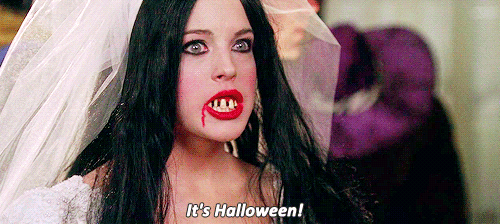 For more check out…
Halloween Running Costumes via Women's Running
Worst Running Costumes via Buzzfeed (for a preview see below)
20 Awesome Running Costumes via Active
Question: Are you dressing up for any races this year?