This is a sponsored conversation written by me on behalf of Splenda. The opinions and text are all mine.
Hello! It's time for an update on my Hydration Challenge! For a lil refresher… I set a goal to switch up my drinking habits a lil bit. Although I drink a lot of water – I was drinking A LOT of seltzer and extra vitamin drinks and other random sips.
My main goal was to get control of my seltzer addiction. My other goals were to make fancy iced tea – which I figured would be great in case I ever made a friend and they came over. Then, I could keep this hypothetical friend with the promise of more delicious tea.
I made a delicious Strawberry Iced Tea with fresh strawberries, green tea and SPLENDA® Naturals Stevia Sweetener. I really liked it! And it was super easy so that's a double win.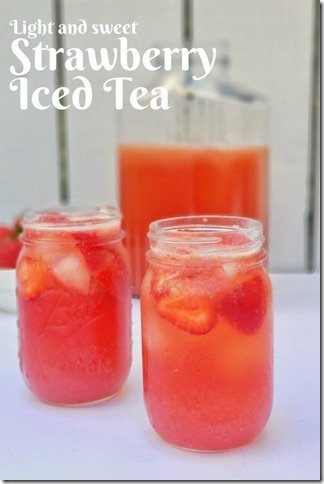 I also tried different fruit and tea combos. I used frozen peaches and blueberries for different variations on it.
Since I first made this challenge for myself the weather has gotten cooler (at least it's cool for me – but not cold relative to places with actual seasons). Even though it's not full on crisp Fall weather and beautiful orange leaves everywhere – I still really love Fall! It's my favorite! It's the best running weather! And I love warm Fall flavors like cinnamon, pumpkin spice and chai tea.
So I'm starting to transition my tea habit from iced tea to hot tea. And I love it.
Lately I've been making a vanilla tea or pumpkin spice tea with SPLENDA® Naturals and a good amount of milk. It's sweet, creamy and I like it pretty hot. So comfy!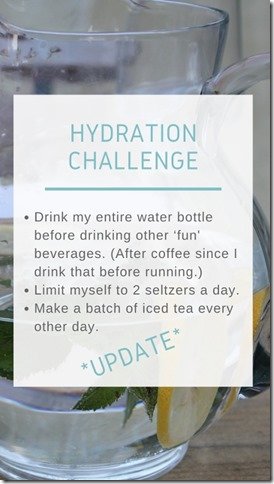 Let's review my hydration goals and see how I did…
Hydration Challenge Goals:
Drink my entire water bottle before drinking other 'fun' beverages. After coffee since I drink that before running. This includes low calorie drinks and seltzer. >>> Update: I did this about 80% of the time. Which is good enough for me – so I'm good with that.
Limit myself to 2 seltzers a day. >>> Update: I just realized I've started to drink more now that it's getting cooler and I'm slacking on making iced tea. But I was doing well with this one for the month of the challenge.
Make a batch of iced tea every other day. (One batch lasts about 2 to 3 days when it's just me drinking it.) >>> Update: I bought a special pitcher for iced tea and made it really easy for myself to make it. I think that's a good way to ensure you stick with something – set yourself up for success!
Overall: I think I did really well with the hydration challenge. I did discover new iced tea combinations I like! And I was drinking more water.
I'll continue to update my latest tea and iced coffee obsessions on Instagram and Insta Stories so follow @RunEatRepeat to keep up!