Good day! How are you starting out your lil week? I have a very busy week ahead with visitors and my aunt's funeral services and the IDEA conference. And today I'm headed to Knott's Berry Farm for my brother's birthday.
But before that I hit the road for a run. I did a short speed session. It's good to cross that off the list in the beginning of the week. Plus, I didn't have a ton of time to run today so that packs a lot into a little.
Post-run stretching with Vegas…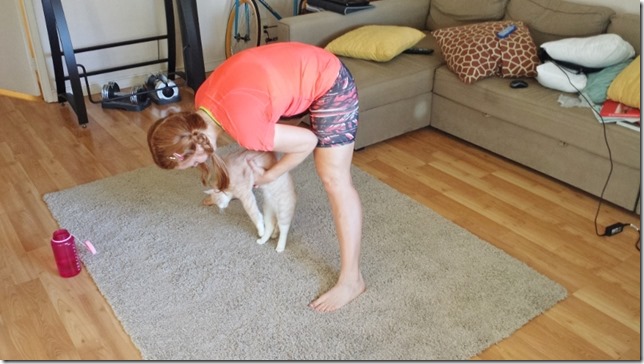 Breakfast was the usual – eggs and toast with almond butter and butter butter.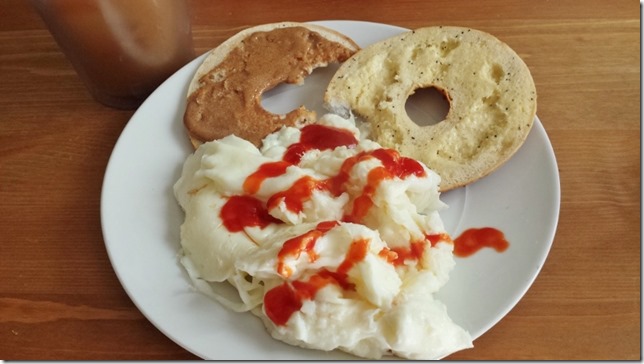 And I stole some of Ben's pancakes since he put honey butter on them and they were magical.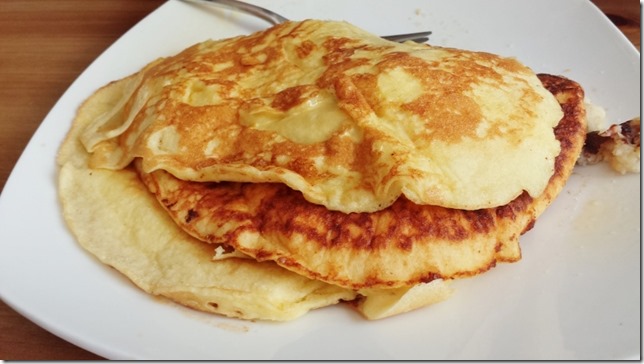 24 Day Biggest Loser Challenge
I've decided I am going to join the 24 Day Challenge Mama Laughlin is hosting. The "Biggest Loser" gets $500 for losing the most percentage of weight.
I'm not super competitive so I am not looking to win (isn't that weird to be such a not Type A person but I run so much and want to get faster??), but I'm looking to 'get it together' and would enjoy the company of some online friends and a little push via the herbal cleanse to help clean up my act a bit. I have a few trips lined up for August and would like to feel good in my clothes and bathing suit so I'm hoping this helps me take off a few pounds without making me crazy.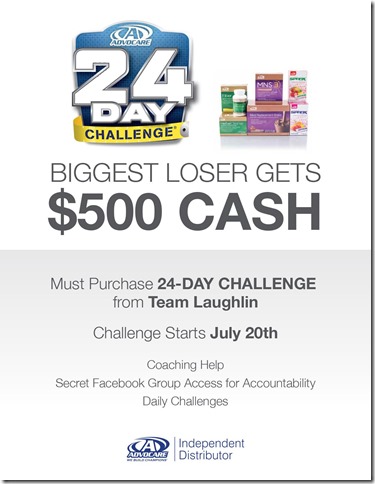 This 24 day challenge starts July 20th so I am able to enjoy some theme park treats today. #Boom (See: funnel cake)
The contest is…
You purchase the 24 Day Challenge Pack. It includes Spark, Herbal Cleanse, Shakes and OmegaPlex. Purchase includes access to the private Facebook group. For the first 10 days it's about super clean eating there's also a cleanse pack you take, then the next two weeks are about energy and appetite control supplements.
Mama Laughlin is going to share challenges and menu ideas and all that jazz via  private FB group to help support and keep everyone motivated.
Full disclosure: I decided to become an Advocare distributor since I see myself using the products a lot in the future and several friends over the last few years have mentioned one or two of the items to me. You can purchase the 24 day challenge pack or the O2 supplement I mentioned the other day from those affiliate links, but it's not the reason I signed up. Do your thing and ignore all of this if it's not your jam.
Finally… SIMBA!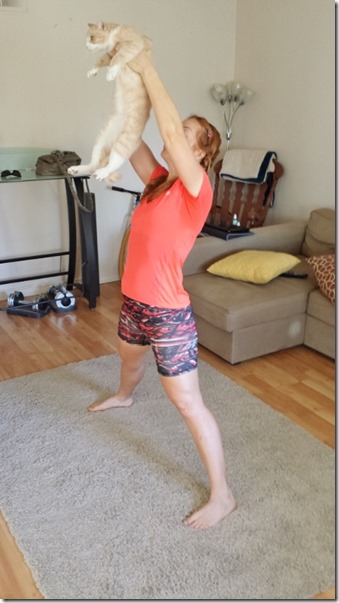 Question: Do you play Lion King with your pets or kid?
Ever been to Knott's Berry Fam?