This morning Ben and I woke up bright and early to check out the Soberania National Park in Panama
We started with breakfast at 7am – eggs, toast, sausage (donated to Ben) and fruit.
Then, we set out on foot for the Pipeline Road. It's about a mile from our B&B.
First we stopped at a small stand to gather food for fuel. (You'll see our food finds below.)
With food, water and bug spray in hand we headed to the Pipeline Road.
You are supposed to pay a $5.00 fee when you walk into the park. But, there was no one at the booth when we went in and out.
So, we kept moving
The entire trail is about 18Km, but you can only go as far as the green marked area.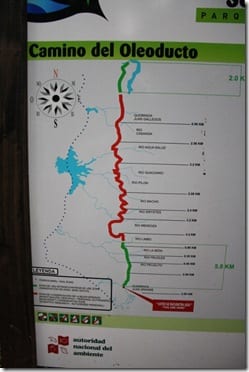 We walked and kept an eye out for birds, monkeys and bugs. This bird actually tried to attack me! So, I took a picture of him for evidence. Melissa, what is up with your bird friend?!
We walked and walked and walked. Unfortunately, there were not a lot of animals to see. We did hear a ton of howler monkeys though. That was scary!
After about 2 1/2 hours of walking and sweating we turned around to a bench we had spotted earlier and had lunch.
We grabbed the following – a ham sandwich
thick flour tortillas…
thick fried corn cakes
chorizo
My favorite was the thick, chewy flour tortillas. So good. So bad.
We ended up going to the 5k mark and turning around. It seemed a lot further!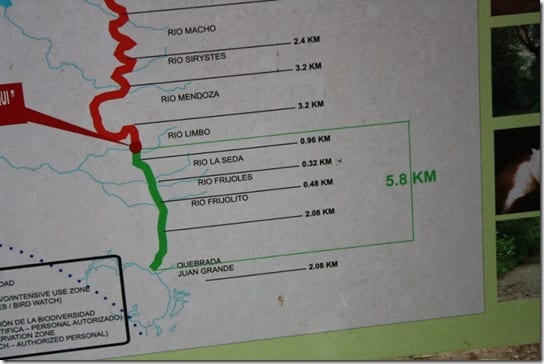 We stopped at the small shop on the way out for a few drinks and apples.
From there we headed straight back to our room for showers. It felt like we were completely covered in dirt, sweat and bug guts spray at that point, so it was the most amazing shower 🙂
Then, we headed to the huge and very fancy Gamboa resort around the corner.
VERY fancy.
It was 2pm at this point and we were ready for a "real" lunch. We sat down outside on their deck with the most amazing view.
In the spirit of vacation we started with Pina Coladas.
and bread that I basically grabbed out of the waitresses hand like an animal…
and I ate some of Ben's Panamanian stew
I ordered the Grilled Vegetable Sandwich and it came with salad (often I'd sub fries for salad but today I really wanted fries!).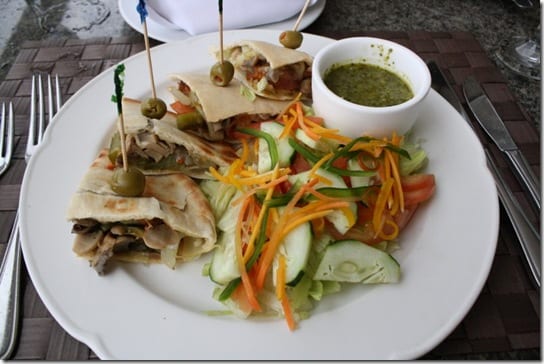 I didn't realize it was going to be on pita bread, but it was still pretty good. And even though it was a Sadwich, I didn't get sad after eating it…
Ben ordered bass wrapped in plantains
  As soon as we ordered a HUGE downpour came down! We barely missed walking through it!!!
Ben ordered me a second Pina Colada and I didn't refuse 😉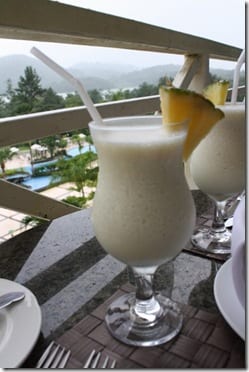 If you like Pina Coladas…
and getting caught in the rain…
  Then you're insane.
Or, you should go to Panama.
Where the stick people have butts. Like me.
I was about to skip over dinner, but it turned out delicious and I wanted to share! We ate at the B&B (for an extra fee) because there are really no other options in town. It's not ideal if you want to explore, so keep that in mind if ya come here.
But, tonight's meal was super good so I'm happy 🙂 We started with a salad.
The main course was fresh caught Bass from the lake.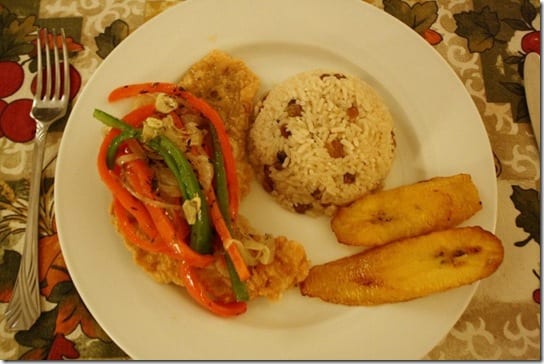 It was fried and served with onions and bell peppers. Plus, rice and plantains. THIS is the kinda meal I LOVE!!!
Dessert was flan. I'm not a big Flan Fan, but there's got to be chocolate hiding in my purse somewhere 😉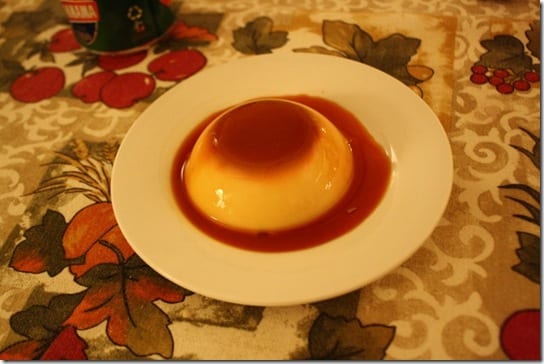 Tomorrow we're headed back towards the city and then to a nearby island. We're taking a bus and then a ferry. Hopefully, it will all run smoothly!
See ya later 🙂