Good day! I started my Tuesday with a big bowl of pumpkin oatmeal topped with almond butter and cereal. Unfortunately, it doesn't make me feel as full as yogurt bowls. I hate that, but it's getting cold and I need something warm!
Lunch was a salad and sandwich combination of sorts. I really love big salads or bowls of veggies as a meal, but shy away from them in an attempt to be creative. Well, that is over because I'm focusing on eating exactly what I want and as much as that might get redundant, I'm going to have to do it.
Hopefully you'll stick around on the off change that I'm giving away an ipod or something 😉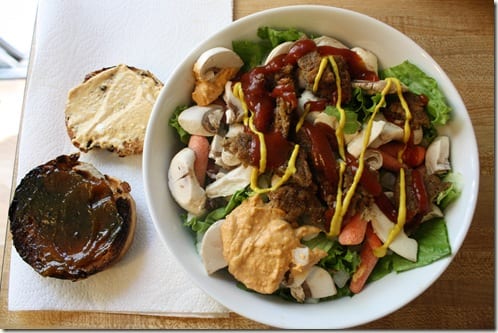 On the side: Cinnamon roll with pumpkin butter and pumpkin cream cheese.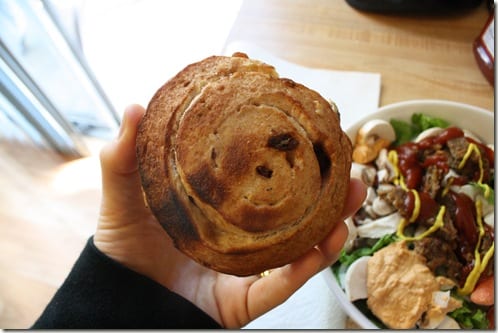 I licked the cream cheese container clean. I should be ashamed, but I tweeted it and a bunch of people said they do the same thing. No shame in my game.
Runeatrepeat Monica Olivas
I only licked the pumpkin cream cheese container clean so it would be easier to wash… #lies
If you want to know the mundane details of my day to day follow me on twitter 🙂
Jared Fogel, the Subway spokesperson who lost over 240 pounds on the "Subway diet" ran the New York City Marathon in 5:13:28 this weekend!
Because I am working with Subway to promote their Commit to Fit Challenge, I had the opportunity to interview him before the marathon.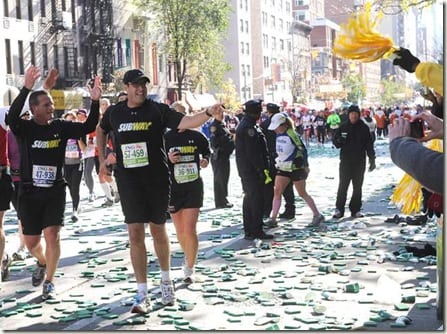 (source)
   Jared Fogel was not a runner growing up. If you're familiar with his story, he was overweight for most of his life, beginning at childhood. That is more inspirational to me than the usual athlete since I wasn't a runner growing up either.
Fogel said,  "Before this year I never run a mile in my life. This is all new to me. Never something I thought I would be doing. I think if I can do it, anybody can. Start off slow and make sure you pace yourself properly."
   And now he is a marathon runner.
   He admitted that he doesn't get the fabled "runner's high" that everyone talks about, but that's not why he's running…
"While I'm running I don't get that whole runner's high. I enjoy knowing how many calories I"m burning. When it's over I feel a sense of accomplish."
   Jared runs for the calorie burn, I think a lot of RER readers can relate to that.
   Since I feel that I really lost the mental race in my last marathon I asked him how much of marathon training was mental…
"A vast majority of it. The mental part of it is critical. Getting over those mental humps – especially on bad runs.  It will be over soon enough.  Each training run I do is helping me achieve that marathon.  There are days you roll out of bed and feel great. There are days you don't feel great and don't want to run.
When I did my 16 or 18, I had a bad head cold. I got through it. I was miserable. It was really good for me to get through something like that.
(On marathon day) I hope I feel great. I hope the weather is great. But, you never know…"
   Jared's training program was modest. He ran about 3 days a week, usually Monday, Wednesday and Friday. It was about 16 weeks long, but he built up to it with 10ks and half marathons.
   In addition to his training program, he paid closer attention to his eating and cut back on wine a bit. But he wasn't willing to go to extremes.
"I think there is a perception of runners. There is the perception that you have to be an extremist. You can still run without having to be an extremist," Fogel said.
   I often reference wanting to lose a few pounds before my next marathon and Jared acknowledged the impact of this, "Every pound that you weigh less helps your time too."
Monica: What do you eat before long run?
Jared: "I do them in the morning so I wake up 2 hours or so before. Breakfast is a bagel with reduced fat PB with a little thing of yogurt. If I get up early, coffee for caffeine. During the run for me personally every 3 miles I've been doing those gus. Espresso because its got extra caffeine."
   I personally think the hardest part of losing weight is actually keeping it off, something Jared has managed to do successfully. I asked him for tips on this and love the answer…
Monica: Do you have any advice on how to keep the weight off once someone has lost it?
Jared: "It's tough.  The battle begins once you lose the weight. It's a challenge. I think it had to be your mental approach. Phase one is losing the weight. Phase two, three…. is your continued battle. You have to continue to change with your circumstances. Job situation, family, aging – you have to change with those things. If you can get stagnant it can lead you to fall into bad habits."
   Jared's personal experience being an overweight kid inspired him to form the Jared Foundation. It is an organization fighting childhood obesity. "My goal is that they don't have to go down the same road I went through myself," said Fogel.
   During the interview he talked about how running fits into his life now. He enjoys it but said, "Do I see myself doing another marathon, probably not."
   Now that he's crossed the finish line of his first marathon I wonder if that answer is still the same 🙂
If you're inspired to run after reading that interview I had a great giveaway for you! I'm giving away green iPod shuffle and a $10 iTunes gift card!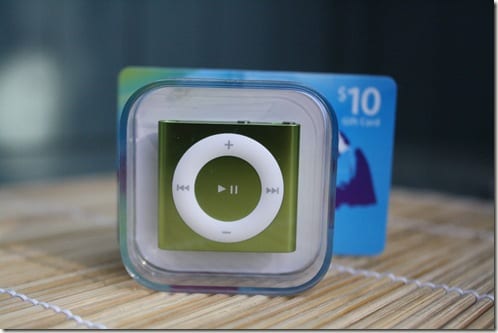 I love how tiny it is – the gift card looks huge in comparison! I actually don't have an ipod and take my huge phone on runs, once I load it up with songs I'm going to review if it changed my life.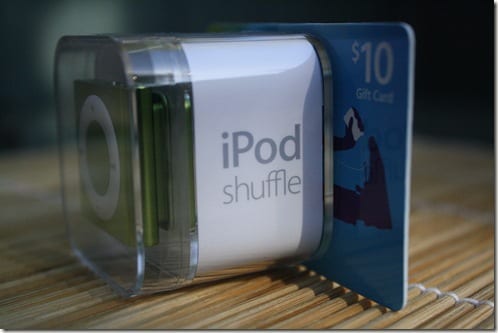 To Enter: Leave a comment on this post with a great "pump you up" song!
Contest ends Thursday (11/11/10) morning at 7am PST. I will announce the winner Thursday.