I am currently flying high above the clouds on my way back to MD. But, before I got on the plane airport security stopped me because of a suspicious item in my purse – a banana.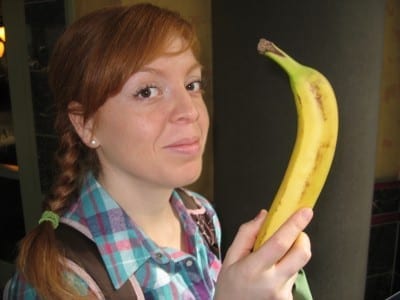 I can only imagine what they thought it was, but Ben's random comment of the day is:
Ben: "Miss, I'm sorry but, you can't use a dildo on the plane, it may distract the pilots…"
This morning we were up bright and early for my friend's ABC (Annual Breast Cancer) 5K. It was a very small race and I won first place for the women's division!!! Susan says there is a boob trophy coming my way soon:)
Susan and I
It was pretty chilly this morning so my family was all dancing around waiting for the race to begin.
Ben, my mom, Matt and a few of my cousins came out for the race too. I love that they wanted to be a part of it.
I packed overnight oats for breakfast and ate them on the way home. I've been craving overnight oats for a while, but keep forgetting to make them –finally my craving is satisfied.
I also packed lunch for the flight – PB&J, carrots and an apple. I usually pack a ton of snacks for traveling, but this is all I packed today – I hope I don't get hungry again soon. Oh wait, I just remembered I have grapes – chomp, chomp, chomp.
Overall my trip to California was just what I needed. I got in some great family, pet and running time. I'm always so sad to leave, but we'll be visiting again soon – at least it's something to look forward to.
I definitely over did it with the food and drinks on this trip, but I had a good time and was working through some stuff. Now, I am so ready to get back on track with healthy eats! My bag weighed an extra six and a half pounds coming back and I'm pretty sure I do too 🙁
I may start my New Year's Resolutions tomorrow!