Hello! How was your day? Busy?
Yeah, Venus Williams and I were just talking about how busy we are this week…
Ha! Isn't that ridiculous that I met her?!
Yes. I met Venus Williams at the Jamba Juice Fit Trends event in Santa Monica today. For those that don't know I LOVE the Williams sisters. Back in 2010 I wrote a post about my Fitness Idols and named them
So, when I was invited to this event I kinda freaked out because I was so excited to actually meet one of my favorite athletes ever! AH! I still can't believe it.
Jamba Juice organized a "Fit Trends Expo" today at the Annenberg Community Beach House in Santa Monica
The event featured a lot of popular and up and coming exercise trends. We did short mini-classes of everything from Broadway Bodies to Physique 57.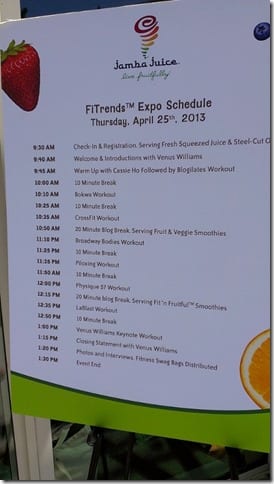 And to start the day the infamous Cassie from Blogilates taught a class.
It was super cool to meet her and she's even more adorable in person!
If you're not already familiar, Blogilates does a ton of great exercise videos on Youtube and teaches classes in LA.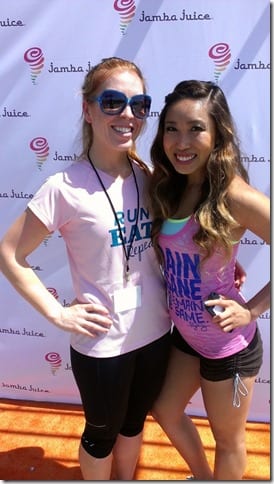 I think my favorite mini-workout session of the day was the Bokwa session. It's like dancing to letters – as in you trace or dance the shape of the letters with your steps. I caught on super fast to this one for some reason (cough Latin rhythm cough I got it!).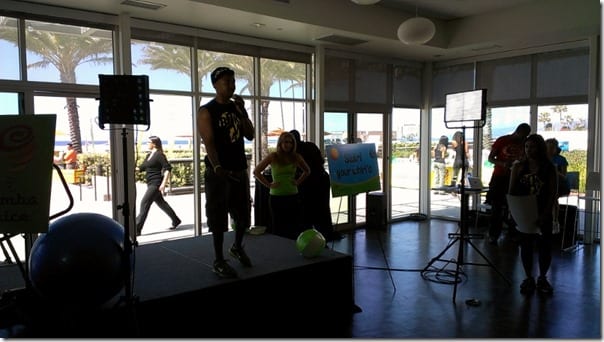 It's funny to see a lot of people step back when we start doing dance classes and I go to the front, then it was time for Crossfit and I went to the back. No thanks, not my thing.
In addition to the exercise classes every time we had a break there were Jamba Juice smoothies to try!
They had two flavors each break! I tried all of them including their new smoothies with vegetable juice in them.
I don't know if I ever told you guys this but my old lil Echo car had a "Powered by Jamba Juice" license plate holder. I used to be obsessed with Jamby. I still love it.
I had some of the Jamba Juice oatmeal during one of the breaks. I love steel cut oats so much more than rolled, just don't take the time to make it.
Throwback Thursday – I reviewed the Jamba Juice oatmeal 4 years ago when it first came out! Ha. What a dork
Mr. P90x himself aka Tony Horton gave us some exercise tips and a little show too!
The last session was a mini-class by Venus Williams' trainer.
Then it was time for lunch!
And I asked Venus Williams, "What do you eat before a tennis match? And what do you eat during to keep your endurance up?"
Her answer…(At 1:06 in the video)
"It's like a 3 hour match. You run out of gas…it's just not being prepared, it's inappropriate actually. I try to be appropriate on the court at all times."
I am happy.
Question: Who is your fitness idol?