Hello! It's October 1st! Wow, where did this year go?
This means there are only 3 months left in 2010. Three months to finish up any resolutions you made in January or a chance to add in a few new goals before 2011.
I already have my 2011 Resolutions planned and they're pretty challenging. So, I've decided to try and knock off some of my smaller goals in the last three months of 2010.
I looked at my 2010 Resolutions and still haven't accomplished a lot of them! Oh no 🙁 Since it would be tough to completely knock them all out, here is a more manageable and do-able version.
My End of 2010 Resolutions:
1. Go to Yoga once a week and do strength training 2 times a week.
2. Eat Cleaner and Practice Intuitive Eating: Cut back on sweets and don't keep trigger foods in the house. Eat when I'm hungry, Sleep when I'm tired and call a friend or take a walk when I'm Stressed. Also, aim to eat healthy 80% of the time and complete crap the other 20%.
3. Get organized and Stay organized.
4. Finish my upcoming Marathon and Half Marathon strong in order to best assess new goals.
Do you have any last minute goals you'd like to accomplish before the ball drops?
This morning I was not feeling my run, but since I only had 3 miles planned I made myself go for it. I was slow. I was sweaty. I was happy when it was over.
When I got home I wanted to make my Nature's Pride contest recipe idea, but my kitchen was a mess and had to be cleaned before I felt like being in there.
So, I made a no cook breakfast instead – yogurt bowl. I added more and more cereal as I ate this and realized I have had an official relapse with IE, hence the goals above.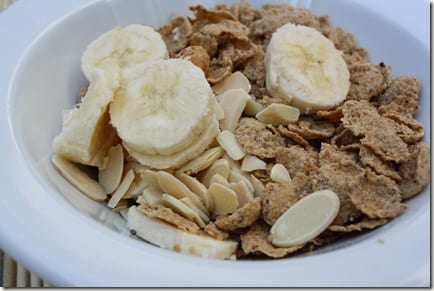 Then, cleaned the kitchen and was finally able to get to work on my new recipe creation!
This is my entry for the Nature's Pride recipe contest. The winner will represent Nature's Pride as a Bread Ambassador at the Foodbuzz Festival. I've always wanted to be an ambassador, and since Obama didn't pick me to be the U.S. Ambassador to Mexico – despite my numerous letters to the White House, I'm hoping I can score this gig. Disclosure: The company sent me a coupon to purchase a loaf of bread.
In honor of French Toast Friday I created a French Toast inspired recipe…
Cinnamon French Toast Wheels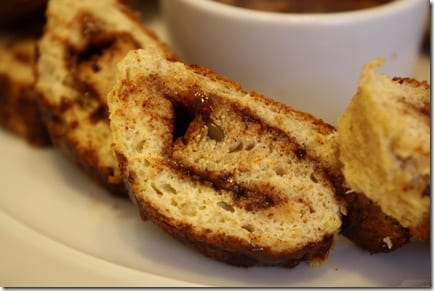 Ingredients:
2 slices Nature's Pride Bread of your choice
2 eggs
1/2 tsp vanilla
1 tsp sugar or stevia
1 Tb. almond milk (or milk of your choice)
Filling:
1 Tb. melted butter
1/2 Tb. brown sugar
1/2 Tb. sugar
1 tsp cinnamon
Dipping Sauce:
Equal parts Maple Syrup and Peanut Butter with a dash of cinnamon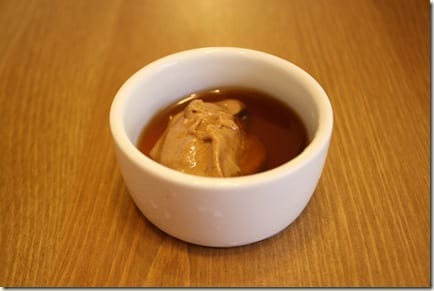 Directions:
1. Preheat oven to 400 degrees
2. Mix the eggs, vanilla, sugar and almond milk in a large, shallow bowl.
3. Dip 1 slice of bread in egg mixture on both sides.
4. Transfer bread to plate and spread half of cinnamon sugar filling on one side.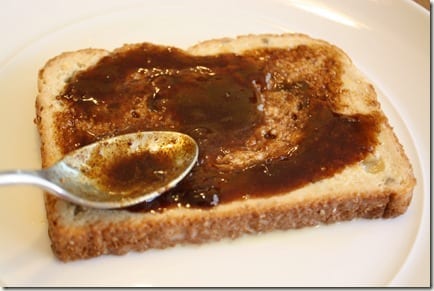 5. Carefully roll bread and lightly squeeze in place to stay.
My rolls stayed fine just like this because they were pretty soaked with the egg mixture, but you can use toothpicks to hold in place if necessary.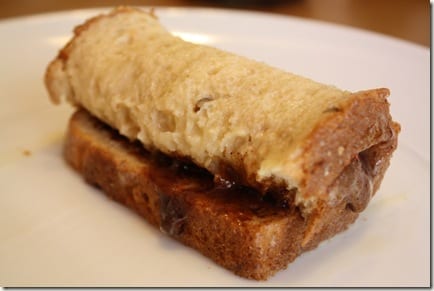 6. Run, Eat Repeat with second slice
7. Place Cinnamon French Toast Wheels on baking sheet sprayed with non-stick spray. Spread any remaining cinnamon sugar filling on top.
8. Bake for about 12 minutes or until egg is cooked through.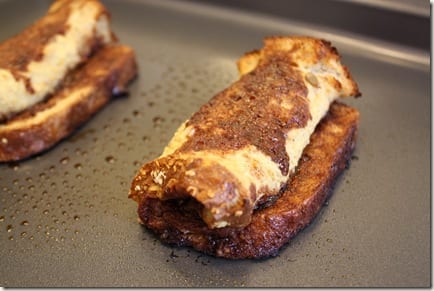 9. Let cool for 5 minutes and then slice into bite size pieces.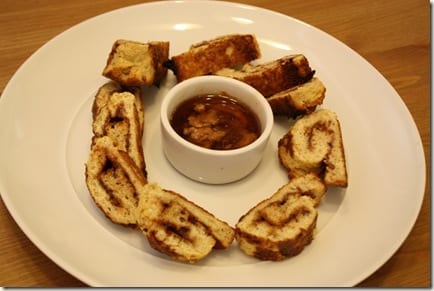 10. Serve with maple syrup mixed with PB for dipping!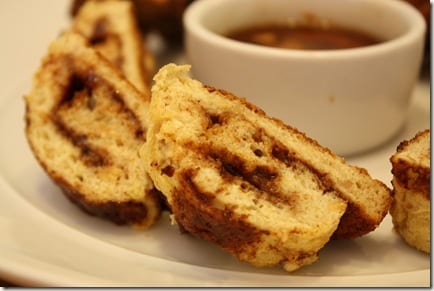 Enjoy!
Flashback Friday – A year ago today I was re-examining my 2009 Resolutions! The more things change, the more they stay the same…
Question: Do you have any last minute goals you'd like to accomplish before the ball drops?