Whether you're running a local half marathon or a big 5 marathon in another state – you should have a race day checklist to make sure you are prepared. Race day is stressful, but you can make it a little less chaotic by laying everything out before the race and make a list of EVERYTHING you need a few days in advance. Here is a Marathon or Half Marathon Race Day checklist you can print out and use for race week.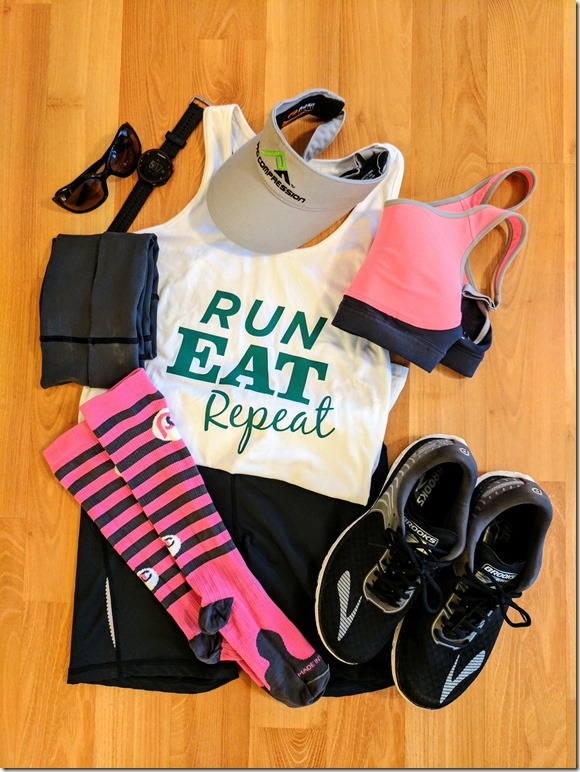 I also have a few other reminders to help you feel prepared and ready to rock your race!
Speaking of races… The Los Angeles Marathon is this weekend. I checked the weather and it's going to be warm (per usual). Make sure you are planning to dress for LA running if you're coming from out of town and that you factor that into your hydration plan and race goals.
Race Day Gear Checklist
EVERYTHING  you are going to have on your body race day. This includes sunblock, deodorant, lock of hair from your cat, hat, money, good luck charm, running watch – put it ALL on the list. Start from your head and go down listing everything you will want to have on you at the starting line. (Add anything else you need to the bottom of the list.)
* Printable Race Day Checklist here *
[ctt template="1″ link="6f21I" via="yes" ]Share this Checklist on Twitter with your friends and fellow runners! [/ctt]
Race Packing Tip: Write everything you need (besides clothes) on a gallon sized plastic bag and make sure it has all the items before race day. Or print out the list and place it in the bag.
Race Morning Tips:
Lay out your clothes the night before and make sure you have everything you need.
Make sure you have your 'usual' pre-run food available and ready to eat before the race.
Lay out anything that can be left out the night before like:
Pre-race food, coffee, water, Spark packets or Rehydrate, medications.
Make it as easy as possible for you to get ready in the morning.
In other L.A.Marathon news…
I interviewed Meb Keflezighi on Friday and he gave me a ton of great information and tips to share!! I'm working on that to post soon.
I asked  him about running and eating and mental tricks and everything I could think of – and he is the best with being super open and sharing realistic tips (even though he's an amazing superhero athlete). We need to talk about it soon because I am bursting to share and have basically told several complete strangers random tips he told me because I'm excited.
Don't forget to get the Printable Race Day Checklist here ! Good luck!!
Question: Are you getting ready for a race? Which one??
Are you running the LA Marathon this weekend?
Me: Yes, running LA