This post is written in partnership with Massage Envy, however all opinions are my own.
Hello! Over the last couple months I've been working with Massage Envy and enjoying the different services they offer. First it was a Total Body Stretch session at Massage Envy … Then it was a massage session and now I'm sharing my experience doing a one of their new advanced skin care services – a chemical peel.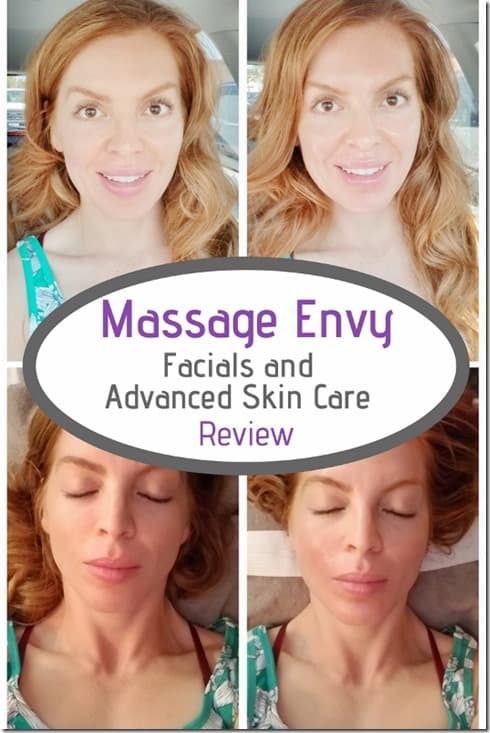 I knew Massage Envy offered massages and facials but I didn't realize that they now advanced skin care treatments including microderm infusion and chemical peels. (You can check out all their skin care services on the website Massage Envy)
I had a few microderm abrasion facials in college. I had bad acne at the time and went for both treatment and prevention of more pimples. Now I rarely get facials because in the past I thought they were uncomfortable, left my face super red and hurt. That may have been because my skin was in such a bad state at the time but I was still wary of getting a facial. And I thought a chemical peel would be super painful and not relaxing at all!
But, I was also curious and have realized that I need to start taking better care of my skin. I'm a big believer in using preventative measures to keep you healthy – and I want to make those same efforts to keep my skin healthy and prevent premature aging. So, I decided to suck it up and try a chemical peel in the name of research, vanity, potential funny story material and to report back to you.
(I know what you're thinking… oh, Monica – thank you so much for getting a facial for me! You truly are selfless and deserve the Nobel Peace Prize in Literature for your efforts.)
Well, you're welcome. And I've got good news too – it was an awesome experience!
The facial aesthetics service I got didn't hurt or burn a ton. It didn't leave me super red and blotchy. Boom!
I took a few Before and After photos to document how my skin looks right before and right after the chemical peel:
This is in the treatment room – I took a picture before starting and right after to note how my skin reacted immediately after. The treatment room is serene with low lighting so it's nice and relaxing. I enjoyed it! But I also took pics in my car to see the comparison in brighter lighting (below).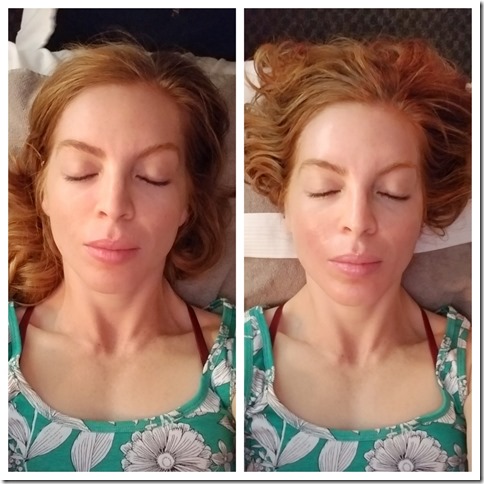 This is in my car in the parking lot outside my local Massage Envy – right before and right after the appointment.
There are a few things to consider before getting a chemical peel. Since I never had one before I didn't realize these things – but they didn't impact my regular routine. But if you have a trip planned or do hot yoga on a certain day you should take it into consideration when making an appointment for a service like this. You may also consult with dermatology experts to know if this is a suitable procedure for your skin type.
– You shouldn't do any activity that will make you super sweaty for a day or two.
– You need to be more mindful of sun exposure after a chemical peel.
– A few days later my skin did peel a bit. That's a normal part of the process and it was gone within about 48 hours.
– You have a kit of post-procedure skin products to use for a week after the session.
Basically you'll need a few days for your skin to really show the results. It's best to do it a week before a big event (this depends on your skin so check with a professional on the best timing for you).
You can check out what to expect at your facial or peel appointment here.
After the session the esthetician went through the 'after care' steps. It's pretty simple – but I'm glad she was very thorough because I didn't know anything about peels before and didn't even know what to ask!
Plus when you get a chemical peel at Massage Envy you also get a Post-Procedure kit with face wash, moisturizer, hydrating serum and spf to use for the week after the service.
I took this pic about 7 days after – I am wearing make-up…. I forgot to take one before getting ready to go out. But I did a video of the before/after without make-up you can check out below.
Overall I'm really happy with it. I feel like it was the ultimate exfoliation without any major downtime.
If you want information on facials, massages or stretch sessions check out the Massage Envy website here.
Check out this short video of my before and after thoughts from the treatment here!
And in case you missed it…
My  Massage Envy Stretch Session post here
My Massage Envy Massage Session post here
And follow RER on Instagram for more here!
Question: Have you ever gotten a facial? Was is dreamy?
This post is sponsored by Massage Envy. All opinions are my own.
Discounts & Deals Alerts
Subscribe to get updates on new discounts, coupon codes and deals from Run Eat Repeat.com