I have guacamole that's on it's last leg so I knew I had to make something Mexican for dinner tonight. I made myself an unexciting taco salad…
"Put some hot sauce on my taco salad baby…" (sing it!)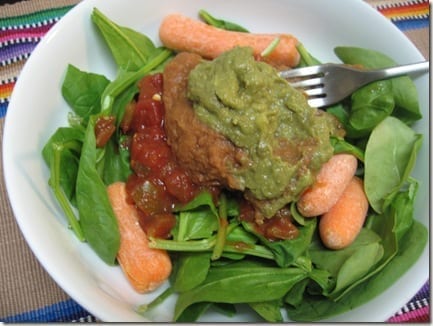 I made Ben Chicken and Salsa Pasta. This is not meatless, but you could replace the chicken with tofu or beans.
I used a can of white meat chicken and heated it up with onions, garlic and a generous pouring of salsa and taco seasoning. I added a few handfuls of spinach to "sneak" in some veggies.
Then, I cooked whole wheat pasta.
I threw it together with a huge handful of cheese. Serve with guacamole 🙂 He loved it!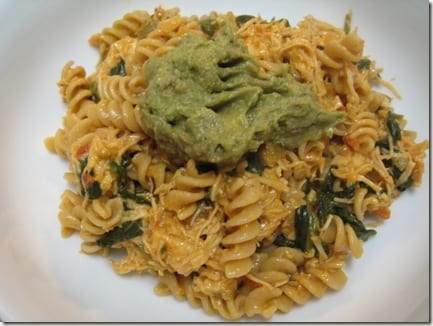 I found this Soy Joy bar on clearance at Target and scooped it right up. I actually describe these bars as "a dry cookie". But for some reason I really like them! Ben and I shared this at dinner time.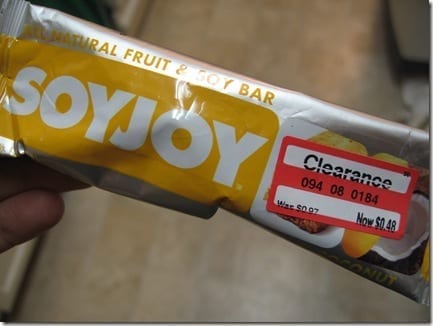 This afternoon I was babysitting and the girls always have a snack first thing after school. Today they decided on PB&J with pretzels.
They have that PB that's already mixed with J – in this case it was Peanut Butter and Honey. It's the weirdest thing because I was just telling Ben that my mom used to buy this stuff when we went camping in Yosemite or Sequoia (so she didn't have to bring 2 jars of stuff).
Added bonus: I've never had PB and Honey!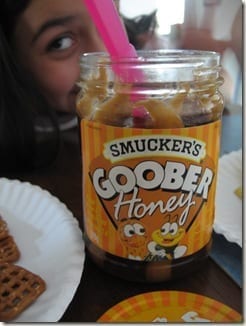 I had a few pretzels with the goods plus a yogurt.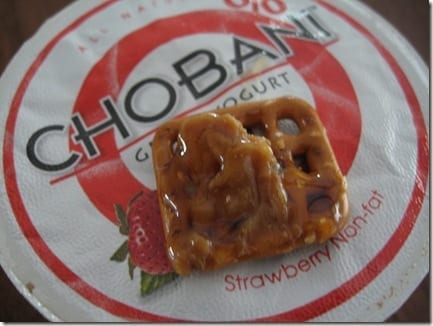 Oddly, this snack didn't completely make my blood sugar crazy. I think it's because I ate it with the yogurt and the protein helped.
Plus – I had a lot of protein and healthy fats today. I noticed a big difference in how I felt versus the sugar craziness of yesterday. Noted.
Anyone else doing Meatless Mondays??