Hello and welcome to another round of Mexican Meatless Monday, courtesy of your local Mexican blogger, Me 🙂 Ole!
This is a quick and dirty easy way to make enchiladas since you don't have to roll them and get your hands and everything else in the kitchen covered in enchilada sauce!
Mushroom Green Enchilada Casserole
Ingredients:
1/2c diced onions
package of chopped mushrooms
1 or 2 bell peppers, chopped
1 can of pinto beans (or fresh beans, but we're all out)
small can diced green chili
can of green enchilada sauce (Note: these come in mild, medium or hot)
corn tortillas
Mexican cheese – Cotija
You have to get this kind of cheese. It is the best! You can use it on top of practically any Mexican meal and it will only make it better. Plus, it's salty, so you don't have to use very much to get a lot of flavor.
Directions:
1. Cook onion until soft and translucent. Pre-heat oven to 350.
2. Add chopped mushrooms and bell peppers. Cook until soft.
3. Add can of green chili (not enchilada sauce).
4. Pour some enchilada sauce into dish and place corn tortillas on top.
5. Spread 1/3 of the mushroom mix on top.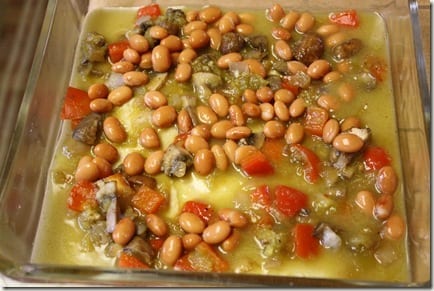 6. Spread 1/2c of beans on top of that. *This is optional, but adds delicious protein and fiber to this dish. Plus, I am obsessed with beans so I think it tastes better too.
7. Layer more tortillas on top of this and pour some enchilada sauce on top.
8. Repeat layers until filling and beans are gone.
9. Top with Cotija cheese. This cheese easily crumbles with pressure. Cut a big chunk off of circle and just crumble it on top of enchilada casserole with your hands. Then, proceed to eat the rest melted in a warm corn tortilla. Trust me.
10. Place in 350 degree oven and bake until heated through.
11. Take out of oven and let it rest for a few minutes. This helps prevent it from completely falling apart when you cut it.
Enjoy!
Now all I need is a Monday Margarita and I'm all set!
Updated to add: RER will be down from 10pm-11pm Mountain Time.
She's getting a makeover that will hopefully go better than my new hair.