I was so excited when I thought up this recipe yesterday I couldn't wait for dinner 🙂
Initially, I was going to put a black bean mixture in the peppers, but I ended up with more than enough filling so I left the black beans out. The soy chorizo has protein, so they weren't really necessary.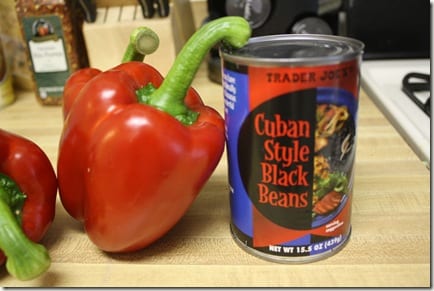 Mexican Meatless Stuffed Bell Peppers:
– 1/2 chopped onion
– 1c mushrooms
– minced garlic
– big handful of spinach
– Soy chorizo (I used about 1/4 of the package)
– 1 1/2c cooked brown rice
– Salt, pepper and salsa to taste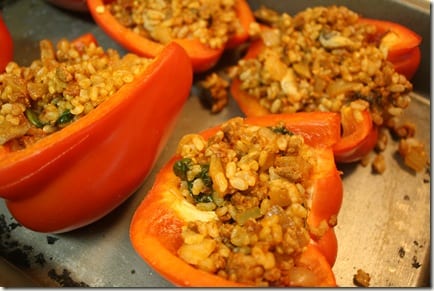 Directions:
1. Cook brown rice to package directions.
2. Preheat oven to 425. Cut peppers long ways. Salt peppers and place in oven.
3. Sautee onions, mushrooms, spinach and garlic until tender
4. Add soy chorizo, cook through.
5. Add brown rice. Season to taste.
6. Take peppers out of oven, stuff with soy chorizo filling. Top with cheese. Place back in oven for 10 minutes or until cheese is melted/filling is hot.
Enjoy!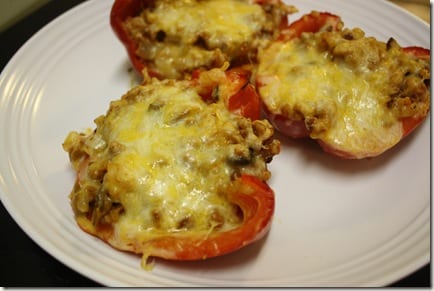 I served them with chips and salsa to get the authentic Mexican restaurant feel 😉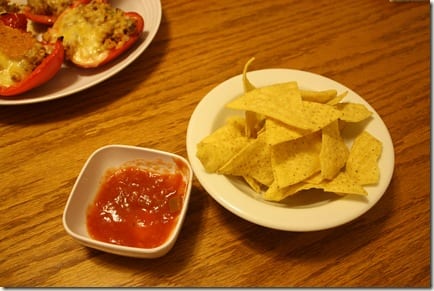 Earlier in the day I was running errands and got super hungry. I found this Honest Foods bar on clearance at Marshall's and for some reason thought it would be a good idea. Eh. It was stale, but I guess that shouldn't be a surprise given the source.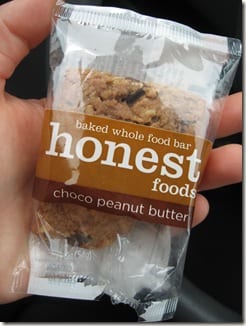 When I got home I just threw together an easy lunch. There was a  bowl of PB Puffins in the afternoon, but I somehow "forgot" the take a picture of it. Rrrright. Plus an apple.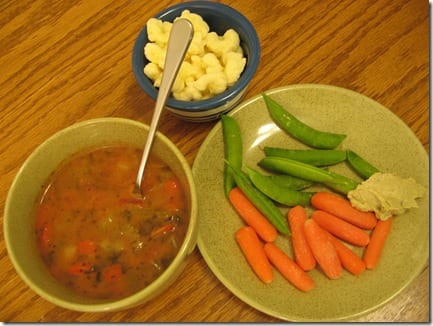 Happy Mexican Meatless Monday! Ole!
See you tomorrow 🙂