Since I stayed over at my mom's I hung out with her while Ben slept in. Then, we walked the dogs and started the day with eggs, turkey sausage and toast. So good.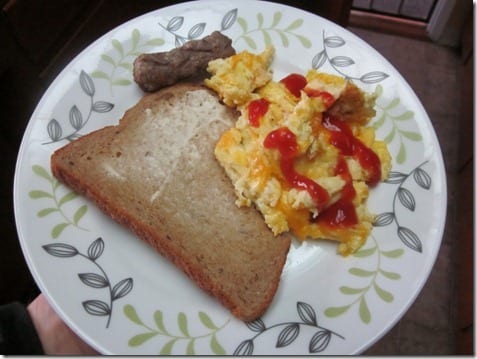 I helped clean up a little from the party and finally headed home around noon. First we stopped at a local place for some Menudo = the hangover cure.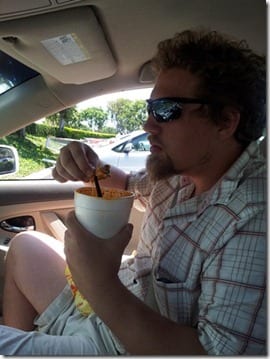 Second stop was Costco for supplies and samples
When we got home I took a shower and parked myself on the couch for the rest of the night. Highlight of the day was this smoothie with tons of good granola.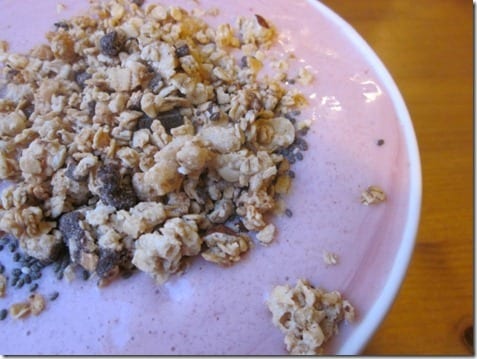 I watched Oprah's interview with the Kardashians. Eh, all their answers are like a politician – they know the right answers to keep em looking good, it just didn't seem real.
And the Real Housewives of New Jersey! Thoughts: Teresa doesn't get it. She doesn't want to go to therapy because she's over the past, but she's pissed about something Melissa did 2 years ago? She just seems so fake and dumb –> "She's like Heckle and Jive."
You can check out a clip here on US Magazine's site.
Monday Mini-Goals!
Since I spent my Sunday on the couch I didn't put together my little plan for the week. So here are my Monday mini-goals…
1. Find a pool to swim at!
2. Fix my bike!!
3. Get to bed by 9:30pm <- we're waking up earlier these days and I need 8 hours.
4. Put together my Fitness Bucket List
5. Close the kitchen after dinner
Question:
1. What are your goals for the week?
2. Thoughts on the Real Housewives of NJ?
I'm sad that Teresa cannot see anything from someone else's point of view. She can't admit wrong or find any fault in her own actions. It's frustrating because I want to like her and I want her to mend relations with her family, but right now I am NOT a fan.