Happy Monday!
Did you watch the Grammy's last night?
I didn't catch all of it because I was doing random errands and things, but I did catch J Lo and Pitbull looking caliente. I love them and want them to get together and make beautiful Latin babies.
(image source)
This morning I ran a slow 6 miles and then made custard oats.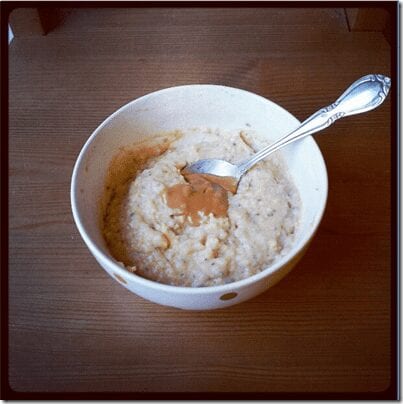 Method: Cook 1/3 c oats, add 1/3c egg beaters and chia seeds, cooked through. Added sweetener and TONS of crunchy PB. I was out of nut butter over the weekend so I'm making up for lost time
Music Monday!
In honor of the Grammy's here are some songs you should make sure are on your workout playlist.
Best New Artist – Fun.
Best Duo/Group Performance Somebody That I Used To Know – Gotye
LOVE Adele! Pop solo performance — "Set Fire to the Rain [Live]"
Question: What song are you feeling today?