I have one more crazy day of school stuff before I can relax celebrate Matt's birthday and Ben's Christmas Party (for work).
But first there were cookies to frost!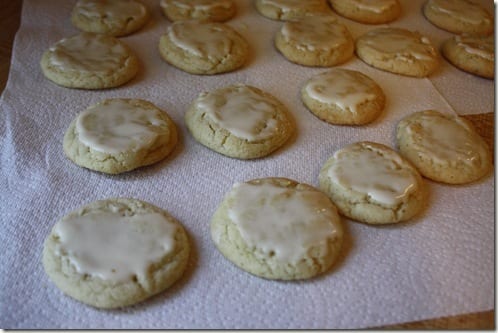 I volunteered to make Eggnog Cookies for Tina's bake sale. My first batch looked kinda sad, but I figured out how to improve them and now I think they're pretty awesome. I hope the person I'm sending them to agrees!
I've eaten A LOT of these this weekend. You know, in order to perfect the recipe
But, I haven't put it on the blog because I'm not ready to share it yet. A LOT A LOT.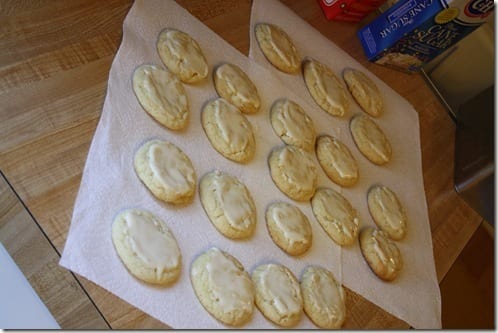 Breakfast bagel topped with cottage cheese mixed with pumpkin butter. I put a small layer of almond butter first then topped with cc and pb. Looks weird, tastes good.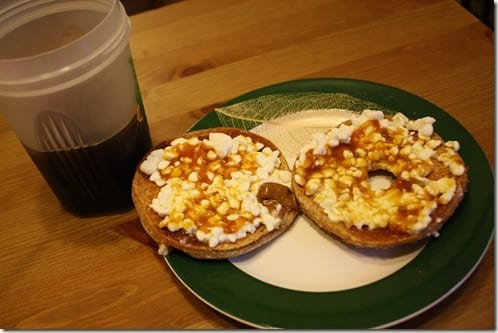 I really really wanted to hit up the gym today, but I  don't have time
So I did Level 1 Shred, which doesn't even feel like a work out any more. Level 2 scares me, but Level 3 not so much – I should have done that one.
Lunch time!
We don't have any salad dressings I like but I wanted salad! I ended up using light ranch, ketchup, mustard and hot sauce. Mix it up and it works.
Crackers on the side.
But not just any ol' crackers – Dr. Cracker's Cherry Semolina crackers with a  *shmear of pumpkin cream cheese. The most amazing cracker combo you'll experience.
*This is the first time I've ever used the word shmear and I don't think I've ever said it out loud!
Anyone just say "shmear" out loud?
I didn't, so I still have never used the word.