Hello! Today was my last day in New York so I wanted to get my fill of running in Central Park this morning.
I did 2 loops around the park for a total of 12 miles. Oh, and a reader on a bike spotted me at mile 11 when I felt like crap so I think my response was that of a sick cat. Sorry friend!
Then, I went back to my room to get ready. The Sabra team didn't have a breakfast planned and told us to order room service. Remember I just had my first room service experience with Silk last week!
But, they never came with the order – turns out they didn't put it in?! #Fail
So, I ate my grapefruit in the car and tried not to cry. #ThisChampagneIsFlat
Now that I'm on my way home I want to share that I stayed at the Blakely hotel and (outside of the room service thing) it was amazing!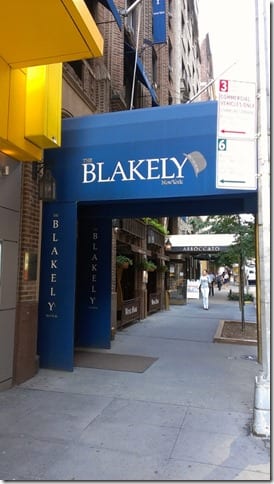 The rooms are very spacious – there was a living room area and bedroom. That's crazy for NYC!
It's just a few blocks from Central Park, so the location was good too.
Okay… back to my travels…
I am flying out of Newark today and when I got to the airport I was starving. My terminal didn't have too many options but I stopped by the Jamba Juice stand for a look. This Power Wrap caught my eye – it's gluten free if you're into that sorta thing.
It was delicious! Like, I almost went back to buy another one delicious. Disclaimer: I was HUNGRY so that might have impacted my thoughts a bit.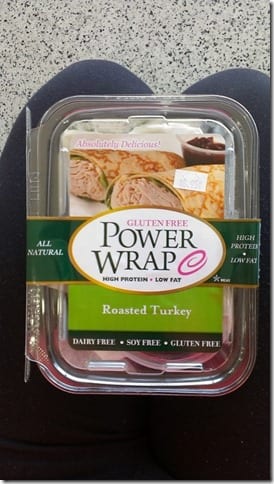 Then, I got an iced coffee because I remembered I ordered one with my MIA breakfast and never got my fill. I asked for extra ice for my knee. My IT band needs some serious love asap.
Now I'm blogging from the exit row with no middle person! Travel SCORE!! See, this totally makes up for the room service debacle.
I am in New York because I'm a Sabra Tastemaker. I have loved Sabra since I was a young warthog so I'm super honored to work with the company.
Side note: When I visit Florida we shop at Publix and they have a wide variety of Sabra's hummus flavors. This last time I got Southwest, which I can't find in SoCal. *The seasonal flavor Rosemary is a MUST buy too.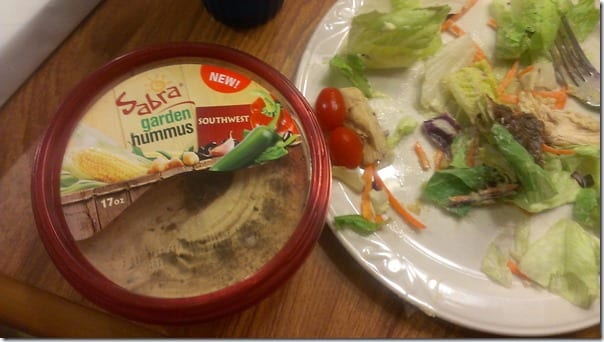 The day started off at one of Sabra's partner offices where we saw the new Sabra commercials and talked about their "Dip Life to the Fullest" campaign. There were delicious Sabra snacks of course….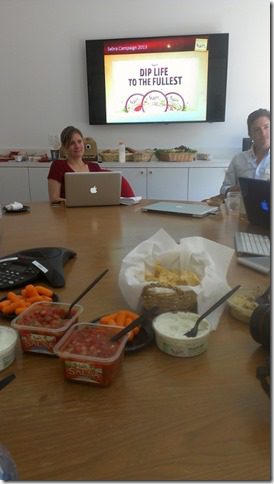 Then, we went to the Natural History museum. After the museum closed we had a private tour of their exhibit
Our Global Kitchen
What is food?
One of the first exhibits addressed this question – what is food?
What do you think it is?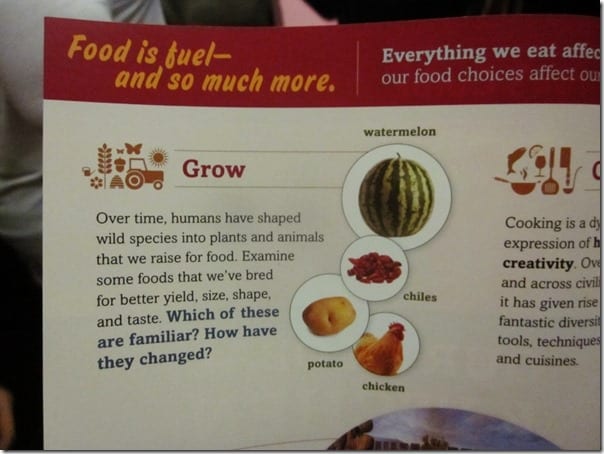 But, it also said that food is more than nourishment. It helps to define us, as we share meals…
I finally got to see a square watermelon!! But, these were fake. Boo.
The exhibit was fascinating and I highly recommend it for anyone – not just foodies or eaties, if you will. Food and farming and health are topics that can be controversial. It's interesting to look at it from a "science-y" point of view instead of a 'Good vs Bad' or 'Health vs Unhealthy' way.
I can't go over all the information I learned but here are some points that stuck out to me…
40 million children are overweight

870 people were hungry in 2012
Raising beef requires 20x more water per calorie than growing grains for cereal.

35% of all crops go to animal feed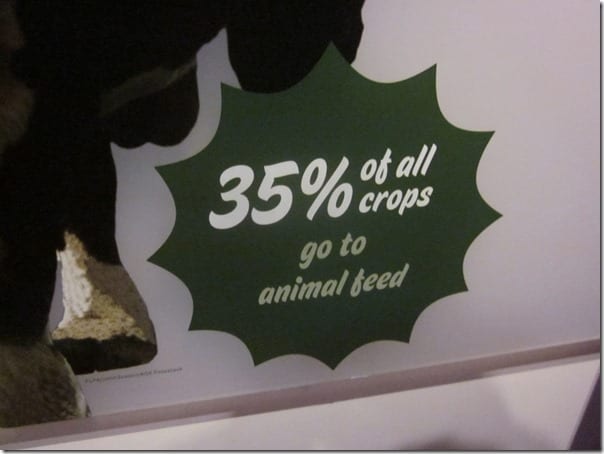 Grains are good! Grains are seen as the basis for modern world. Growing grains allowed farmers to feed a lot of people who could put their talents toward other uses. Plus, storing grain helped fight off famine.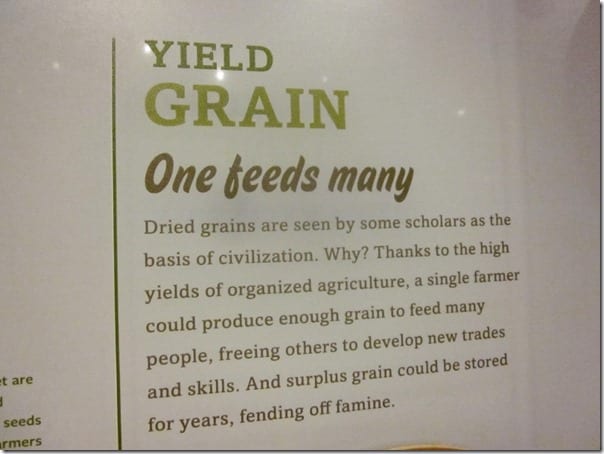 I'm skeptical of the caveman diet arguments because different cavemen would have eaten differently based on where they were, right?
If I was a Mexican cavewoman I would not have eaten chicken, wheat or beef. But I'd have turkey tacos on corn tortillas all day long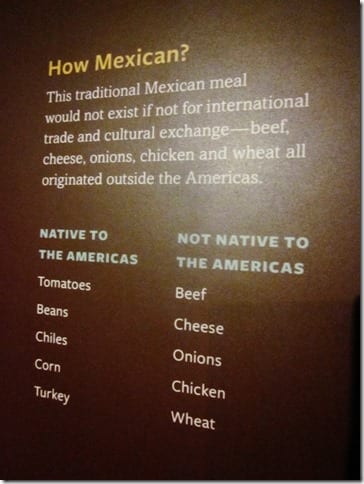 Michael Phelps breakfast. Luckee.
We also did a taste test game and I found out I'm a 'super taster'! No wonder I like food so much, I can taste all the goodness.
From the museum we went to Max Brenner's. I mentioned it last night but it deserves another standing ovation. Closer your eyes and imagine dipping a thick chewy warm chocolate chip cookie in dark chocolate fondue. That was the highlight.
If you are what you eat – what are you this week?
Disclaimer: I was invited on this trip as part of the Sabra Tastemaker's program all opinions are my own. If you eat dessert with me all the chocolate chip cookies are my own too.