Remember – Last month I almost got hit by a truck during my run?! It was light out and I was wearing bright clothes, but the truck didn't see me and I didn't hear it coming at all. Scary!
That same day someone from Panasonic contacted me about trying their Open Ear Headphones. They are specially designed to allow you to hear your music but also be able to hear what's going on around you. This is very important for outdoor exercise – especially as the days get shorter and we're out when it's dark!
Their timing was perfect since I was still a little shaken from my near death experience and I gladly accepted the offer.
They sent me an awesome care package with the headphones plus other safety running equipment! RER will live to run another day
Bonus: They arrived in PINK!!! Didn't expect that and totally love it. (They also come in white and yellow – bright colors for extra visibility.)
I'm used to the little ear buds that fit inside your ear but these are designed to transmit sound while laying outside your ear. They are light weight and comfortable too. I was afraid they would bug me since I'm not used to the wrap around headphones, but I didn't even notice a difference!
I am a big big fan of doing things to be safe while running solo – but I never want to NOT run or discourage people from running. I dig that this is a great idea so we can listen to music and still pay attention to our surroundings!!
Vegas doesn't seem to care about my new open ear headphones, but I know he wants me to be safe deep down in his lil cat heart.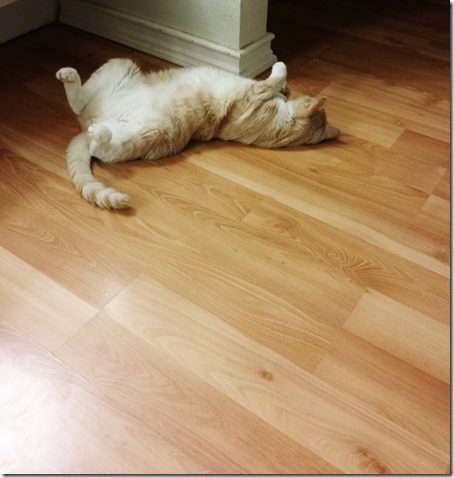 You can check out the Panasonic Open Ear Headphones here. I think they'd make a great Christmas gift for the runner or biker or outside exerciser in your life.
You can also follow @PanaAdventure and #OpenYourEars for more!
Question: Do you keep your music low when you're working out?
What do you do to be safe while exercising??
Disclaimer: This post is sponsored by Panasonic. All opinions are my own. Be safe out there.