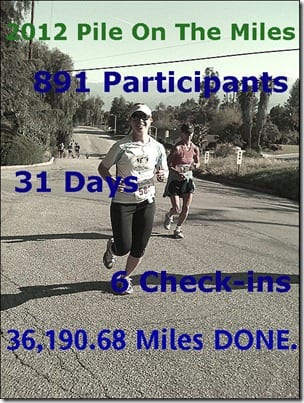 Sadly the 2012 Pile On the Miles Challenge is over. But, it was a HUGE success!
891 walkers and runners signed up to play. Together we completed 36,190.68 miles in 31 days!!! Impressive, right?!
The person with the most miles is Theresa Martin with 359.1! She wins a free pair of shoes from Running Shoes.com. Theresa, please email me within 48 hours to claim your prize or it's going to the next runner up.
The Top 10 Pile on the Miles participants :
Theresa Martin
Jen Schomaker www.runnershoe.blogspot.com
Jayne Fox
Meg Chieffe
Denesse Segura http://sprintrunjog.blogspot.com/
Stephanie Anderson www.runlilmamarun.blogspot.com
Jory Wamsley Http://jorystory.wordpress.com
Sara Anderson lifeinbeantownusa.blogspot.com
Stephanie Ellerman runhonrun.com
Laura Kelly    seelaurago.blogspot.com
Everyone else who participated and checked in every week was entered into 2 giveaways. Here are the winners for those prizes…
1. Pair of Brooks running shoes – Run Around Roo She finished the challenge with 36.3 Miles!!! Go go go!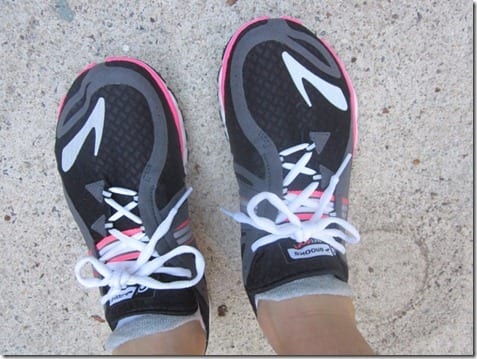 2. Puma shoes and workout gear – Clare from Fitting It All In who finished the challenge with 59 miles!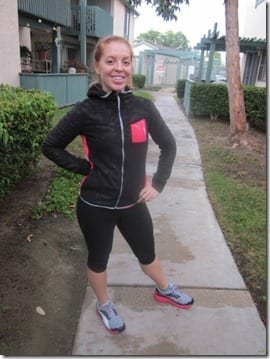 I didn't end up being too productive yesterday after I got home. The best thing I did was call a friend to catch up while taking a long walk
  At least it was productive for my soul.
Then, I ate dinner and went to sleep early. Whew! I needed that sleep so so bad. I cannot believe I how little sleep I got this weekend. Crazy.
This morning I woke up feeling like a new man woman and ran 6 miles. It was slow, but felt great to move.
I busted out my Christmas plate for breakfast.
"Ho ho ho! Merry Breakfast!!!"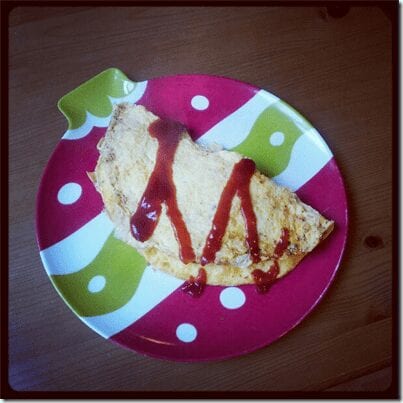 Question: Did Pile on the Miles help keep you chugging along this month? How do you plan to stay on track in December??