One time a guy actually told me, "Do you want to come over for some pizza and some sex?"
I said, "What?" (thinking I must have heard him wrong)
He said, "What, you don't like pizza?"
And who doesn't like pizza?
So, I went over. Ha. Just Kidding!!! I am a funny blogger 🙂
Pizza was on the menu for dinner tonight since Ben has been asking for pizza (and specifically NOT pita pizzas) since Wednesday. I am a pizza lover all the way so I complied of course. We both get out own since I am a piglet like to ask for light cheese and all veggies and he likes pepperoni. We tried Pizza Boli's. I found an Internet Special that was 2 medium 1 topping pizzas for $14.99 (of course I added more toppings).
I had 3 pieces and now I am stuffed!
I started the work day with a DD iced coffee per my Friday tradition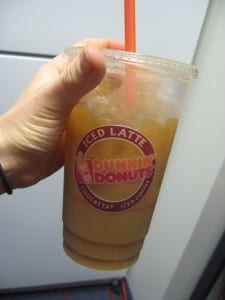 and today was my friend Zach's last day at work so I bought him a pumpkin muffin and he gave me a piece. I am very sad he's leaving 🙁 The DD pumpkin muffin was just okay. Not very pumpkin-y, more ginger-y than anything. If you're a pumpkin lover, save your calories for something that does the squash more justice.
Lunch was not very exciting, salad and toast…I was trying to get the veggies in before my pizza dinner 🙂 Guilty as charged.
and there were some snacks later for good measure 🙂 but who cares about them with all the treats below…
But, highlight #2 of the day was a See's Candy Pumpkin Spice Lolly from Tay. She sent me a bunch after I sadly complained that there are no See's in MD and I couldn't get my hands on one. Tay rocks, much love. Oh, and the lollipop is YUM.
And I may or may not have purchased there Reese's DARK PB cups for "Ben" so that I could taste one. It was either this or buy a bag of the mini ones. I have come realize it's best not to keep junk food in the house, that's the only way I know I will avoid it. So this is better than a whole bag.
I am pushing my long run back to Sunday so it counts for the Pile on the Miles Challenge 🙂 See you guys on Halloween!
In the news
This doctor is opting to bow out of her upcoming marathon in the wake of all the recent deaths of marathon and half marathon runners.
If you're going to run a marathon or half marathon, which I am, make sure you are properly trained. And believe in God. Good Luck!
Run SMART Goals
Fill out this form to get the SMART Running Goals worksheet to your inbox!