How's your Wednesday going? I stopped on the way home from the gym for juice and ended up scoring some discount produce. Stuff like this is often marked down because it's close to the "Best By" date so I just make sure to check that I can eat it before it goes bad.
Luckily, I can eat entire watermelons in 24 hours, so nothing spoils on my watch
After the gym I had a morning snack – apple and almonds. I'm more of a cashew girl, but I was going through those so fast I had to change it up!
My mom sent us home with a ton of ripe avocados so Ben and I are fighting for them eating them as fast as our little crackers can scoop 'em up!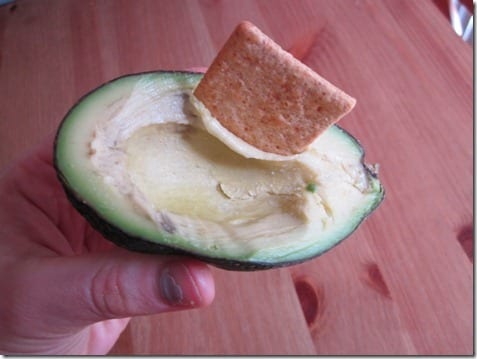 The rest of lunch was a salad and open face turkey sandwich.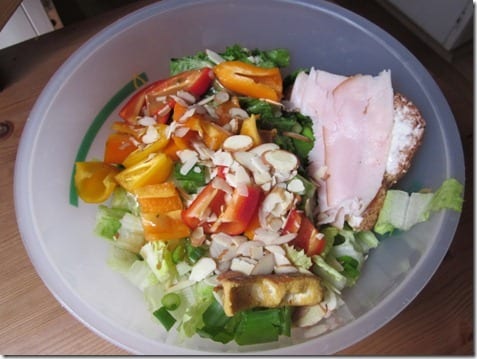 As always, I'm a thirsty bear camel, these are my drinks consumed by noon.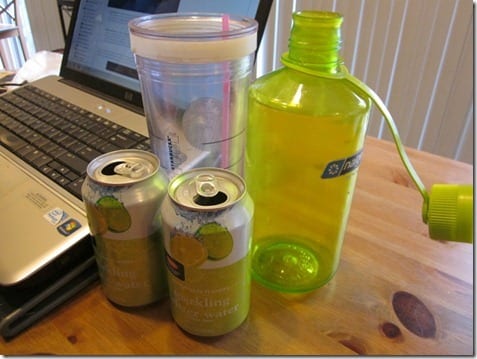 We interrupt this week's Weight Loss Wednesday blog post to remember that even if you're healthy and/or at goal weight you might not be model skinny and that's okay…
This month French Elle is featuring a plus sized model on it's cover – Tara Lynn
(image source)
While I know some people say "plus sized models" are really the size of an average woman in our world and are quick to dismiss curvier models, I appreciate it. I know if they really wanted to Beyonce and Kate Winslet and other stars with some booty could starve themselves to be super skinny. But, I appreciate that they don't (even if their motivation has nothing to do with making a statement about body image). I appreciate it because it makes me feel less crazy.
People talk a lot of shit about my self deprecating comments. I make fun of myself, it's not the end of the world. Word of advice, take most things you read on random blogs with a grain of sea salt – this is not the New York Times (or other publication you find respectable and in line with your political leanings).
But, the reality is I don't mind the booty I was born with. I do think it'd be easier for me to 'own it' if my Latin curves were paired with some brown skin tone. I feel that Hispanics are more accepting of curves (sadly, this is changing more and more).
(image source)
It comes down to this – I don't want to feel like crap about myself and it's really hard not to compare. So, the more media supports normal sized stars the better. I know it takes all kinds, shapes, heights, colors… but I appreciate a more equal representation of not-thin out there too.
Don't get me wrong, I am all for getting to your weight loss goals. Heck, I want to lose the last 10 pounds I've been fighting with! But, 10 pounds is not going to make me thin by Hollywood standards. I want to be healthy and happy and not worry about muffin top. Goal weight or not, I will always embrace booty booty booty rockin everywhere.
Vogue created Vogue Curvy that features more curvy models and stars you can check out.
What's up with all the giveaways on RER these days?
I used to have to turn down a lot of offers, but since changing ad groups about 6 months ago I have been able to say "Yes!" to anything I choose. This means I can pass along some free stuff to my readers via giveaways! I try not to formally Review unless I think it's useful but I do want you to know what I like and don't like. I'm always honest with my opinions to a fault.
I do not accept any giveaway where you'd be required to jump through 100 hoops to enter. If you notice you don't have to like any Facebook page to play
But, I wouldn't hate it if you liked RER's page.
If you win please respond within 48 hours or I will pick someone else. I try and email winners so they don't have to come back to RER within a certain time frame, but it's not always possible.
Let me know if it gets to be too much, but I like spreading the love via free stuff!
Here are the winners of my recent giveaways:
Quaker Heart Cereal – 5 winners
1) Katie R: [email protected]
2) Angie: [email protected]
3) Anne: [email protected]
4) katie: [email protected]
5) Katie: [email protected]
Vega Protein Bars – Melissa: [email protected] gmail. com
Irvine Mud Run 5K – tiffany: [email protected]
thinkThin Bars – Beth: [email protected]