Oh my gosh! This weekend was a blast
First, let's start off with the most important part = I PR'd in the Half Marathon!!! My new Half PR is 1:43:36. I am so happy about that I can't stop smiling.
Okay, back tracking to last night… we went to a dive bar where I was overdressed. It's kinda my thing, so I'm used to it, or maybe I am fancy after all?
Four hours later my alarm went off and I headed to the start of RnRAZ. I was going to buy oatmeal for my pre-race meal, but the hotel guy gave it to me free – I should have read that as a good sign of an epic race day!
Since I was running with REFUEL Chocolate Milk I got a VIP wristband and spotted my new friend Dan the Man at the pre-race area when I dropped off my bag. He was on the Biggest Loser and is super cool and funny!
RnR Phoenix has a super flat course and the weather was perfection. I don't know why, but all the stars aligned and I had the BEST day! My average time was 7:51 <- that is unheard of for me!!!
Post-race I refueled with LF Chocolate Milk. They have a few versions with added protein that I love.
After the race we hung out in the VIP area and my life saver Monica was there too! Fun fun!!! I'm sure the Reach the Beach team is jealous. (We'll talk about what I'm wearing soon, but I LOVE that skirt I was sent to try.)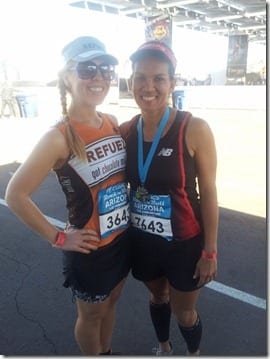 After the race we cleaned up and headed to find food at the Twisted Kilt.
Turkey burger and half/half fries.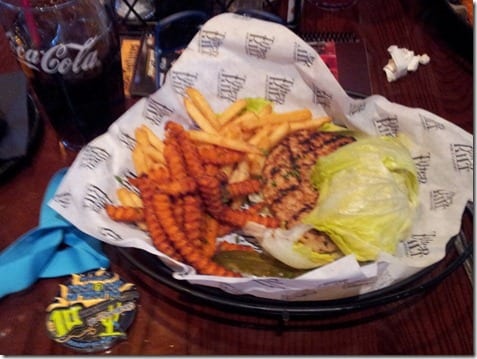 With a side of friend…
I think the secret to my success was going into the weekend super chill. I just went out to AZ to have fun, no expectations. I've been super flighty about 'real' training lately and I still ran a solid race. I think I just had a great day and am in a good place with balancing life and running and eating and repeating. I like it!
Now I just want to celebrate my PR all night! It was great to be around so many other people who love running and eating drinking this weekend! I had fun and ran a great race.
Question: How was your weekend?
BIG BIG Thank you to all my readers who spotted me at the race and said "Hello!". You guys rock and I really appreciate it!