If you are new to RER, let me fill you in on my life – Last year I moved to Maryland for a reporting job. I was born and raised in Southern California and my ancestors are Californios. The most important thing to note here is: I don't like to be cold.
Anyways, last year Maryland had a super cold, snowy winter and I had a marathon planned for January. It was a bad combination – but I had to find a way to work through it. It was very very hard for me and I did cut my training short a lot (which I believe is part of the reason I got injured).
(Fun post from the past: 6 Signs You're Not In CA Anymore)
Because of the freezing weather and snow I learned how to dress to run in the cold. I didn't even own the right running gear and had to start from scratch.
If it's not that cold I wear capris, a long sleeve dry-tec pull over, gloves (I cannot find one!), and ear covers. This worked through October and some of November for me.
But, once it got cold COLD I layer it up expertly…
I wear long running tights or pants (whatever you want to call them). I got my pair from Target. They are thicker than my capris. And them I pull wool socks over them. When it got colder I would wear 2 pairs of socks. They barely fit in my shoe.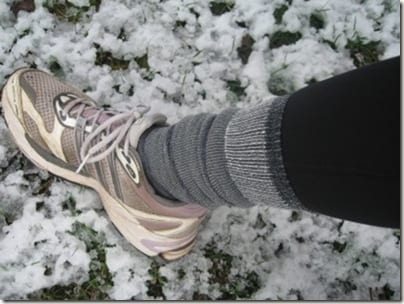 On top I would layer a sports bra (or 2), wick-wear tee, long sleeve and either a thick pull over or a waterproof windbreaker type jacket if it was windy, rainy or snowing.
Yes. I ran in the snow.
It was the best of times. It was the worst of times. This was a picture of the outside of our apartment after one of the many snow storms:
I did NOT run this day. Or the day after.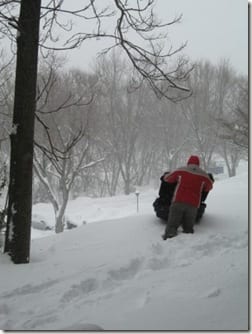 I also would wear at neck gaiter to keep any skin on my neck from being exposed.
At first it was weird, but after a while I got used to layering up for a run. It made me feel hardcore to face the elements.
I really liked wearing a vest because it kept my core warm, but still enabled my arms to swing. I got this one from Old Navy years ago.
1. Make sure you still have a sweat wicking layer closest to your body. Once the air hits your sweat you will get colder. Then, add layers according to the weather and elements. If it's raining make sure you have a waterproof outside layer – but something that is made for running and has vents is ideal.
2. Your extremities will get cold and hurt if they are too cold. Make sure your hands, head and feet are well covered.
3. Check the weather report. I never had to do this living in SoCal, but I had too change my training according to the weather in Maryland.
4. BE CAREFUL. Running outside are rain or snow means the ground is very slippery. You are not helping yourself by falling and risking injury. If it's slippery, slow down, walk or head inside to a treadmill.
5. Accept that the weather will interfere with some training and be flexible. At first it was hard for me to skip runs because of the weather, but it was probably the smarter choice so I lived to run another day and still love it
6. Be Careful again. Snow fall stifles sound and not many people are out there running with you –which could mean you're out by yourself and cannot hear someone creeping up on you. Stay alert and keep your safety in mind.
Good luck to everyone braving the elements to run or walk or exercise. It's not easy to get out of bed when it's cold let alone stay active. Be proud of what you can accomplish.
Question: Do you have any cold weather survival tips to share?