Day to day I don't usually wear make-up. This is a shock because when I go out I wear tons of it.
I realize it's probably a little too much, but this girl appreciates the glitter and there is no changing that 😉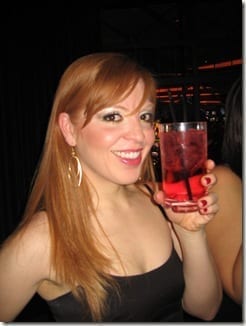 Even more shocking is – I have never slept with make-up in my life. Nope, not even once. This is surprising to my friends who guiltily admit to waking up with mascara smeared on their pillow cases, especially when they realize I wear 5 times the make up they do (give or take).
I have to credit my super quick and easy make-up removal policy to my mom. When I first started wearing it she showed me how to take off any eye make-up with Baby Oil.
I know what you must be thinking, "They make oil out of babies? Gross."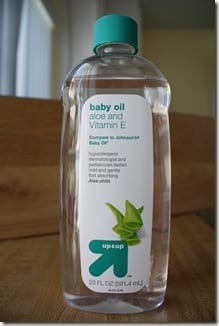 But it turns out this is Mineral Oil 😉 You can get it simple and plain or with added fragrance or Vitamin E too.
I pour it on a piece of toilet paper, press it to my eye, wait a minute or two and then my 68 layers of waterproof mascara come off in a smeared mess on my cheeks flash!
Now you can save yourself some guilt and stains on your pillow cases and all you need is a little baby oil from the infant section at Target. Do it do it.
I spent the day beginning to put flooring down in our new condo. (The story of the condo, our move and my next career move are coming soon too!)
Anyways, my Nino and Nina (or Godparents) came over to show me how to get started on the flooring. We worked all the way until 2:30pm when they had to leave and I realized I was super hungry.
But when I ran into the kitchen  I realized I didn't have any vegetarian meal options (only snacks, which weren't going to cut it). I knew I needed solid and filling food so I quickly made a turkey sandwich.
I don't know why, but I feel super guilty every time I eat meat. I want to consider myself a vegetarian pescatarian, even though I hate labels. And eating meat once a month cancels out my membership to that club. Boo.
The reality is this was the best option for me to eat and my health and well being needed to be the priority in this situation. It is what it is.
I also had dessert in the form of dark chocolate and a handful of that delicious Attune granola. That bag may disappear before I realize 🙁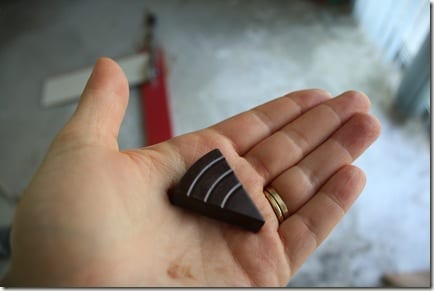 Your Questions –
A few people asked about the Red Dress I wore on Friday at the HLS cocktail party. Well, I got it a few years ago and have no idea where 🙁 Sorry
Bonus info: It is the same dress I wore two Halloweens ago when I wanted to be a devil.
And about my tattoo – I got this flame tattoo on my left hip about 5 years ago. I thought it was going to hurt a lot more than it did. I am not saying it didn't hurt – it did! But, I am saying that I built it up sooooo much, that it wasn't the bloody murder I thought it was going to be.
Tonight is Wino Wednesday! Are you having a glass?