Hello! Today I'm sharing how I made my Sleeping Beauty Running costume. I ran the Disneyland Half Marathon dressed as Sleeping Beauty aka Aurora a few weeks ago. It was super easy to put together the top and thanks to some help from my Sparkle Athletic friends, the rest fell into place. Let's start with how to make the Sleeping Beauty top to run in…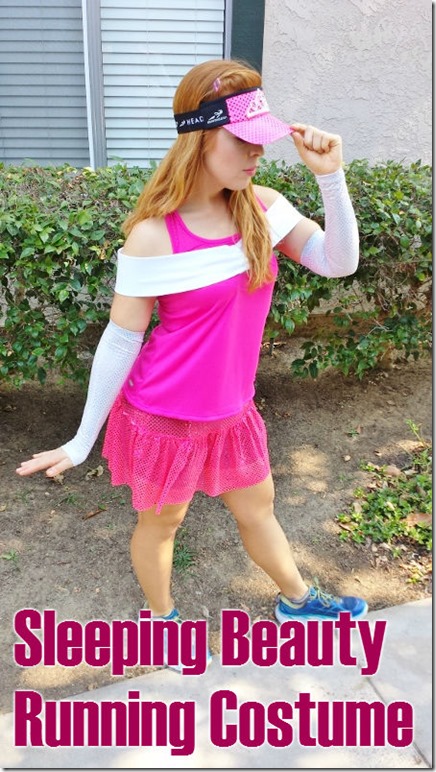 I bought a pink workout tank top and a pair of large white tights for the top part of the 'dress'.
I cut each of the leg parts off the tights and placed them on the top where they would hit just under my shoulders. From here I just sewed them on, kind of messy but tightened it a bit here and there so it looked a tiny bit like rucching. I am NOT crafty at all so this was good for me.
The rest of the costume was a pink sparkly visor, arm sleeves and a sparkle skirt from Sparkle Athletic. They are at every Disney expo so you can buy all this stuff there or buy it online here.
(I wore my usual running shorts underneath the skirt. )
I had a blast! You can check out my Disneyland Half Marathon recap here.
And I have some friends that ran one (or more) of the Disney races and wanted to share their fun too!
Carissa from Fit 2 Flex (Carissa on IG) is a bi-coastal powerhouse and you can see her at Disney races and expos in Anaheim and Orlando! She also has a little red headed baby that I need to meet asap!
Here is Sharp Endurance's Disneyland Half Marathon Recap. He is one of those rare creatures that can run and take pictures at the same time. I am not.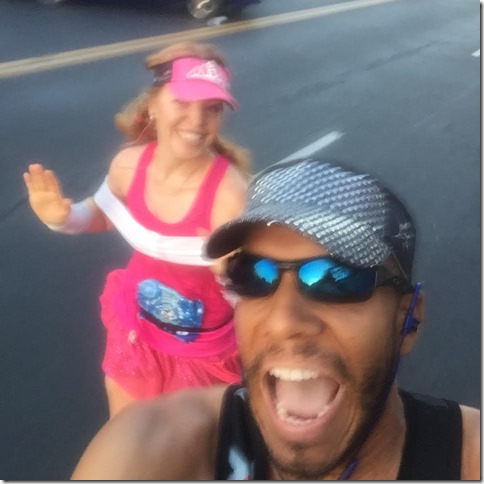 Lindsey was an amazing Snow White! I'm digging the costume and the fact that she found Prince Charming.
Erin! She's one of my favorite fellow cereal lovers and was running as Tink. Then, apparently had a post-race beach party I wasn't invited too…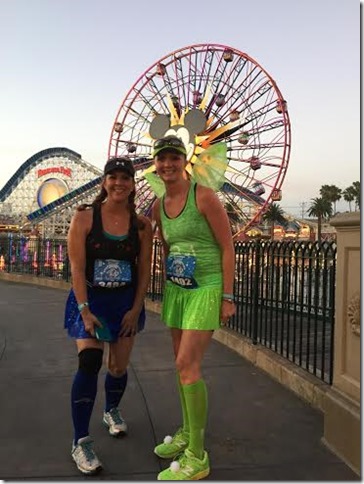 Kelly and her Sparkly friends always have the BEST costumes for Run Disney races. Seriously.
Mini-Shannon wants a ride to the finish!
Question: Do you run with your friends?
Have you or Would you dress up for a race?