Fail #1. I was supposed to attend a very cool blogger dinner in Los Angeles at 7pm last night. I live about 50 miles south of L.A. – it's not that far but the traffic is ridiculous. So, I gave myself almost 2 hours to get there and was still way too far to make it at 6:55pm. I realized I had to accept defeat and bow out of the dinner. I feel like ish about it, but I can't control traffic so it is what it is.
After driving for 3 hours I needed a drink treat. I made a pit stop at Yogurtland on the way home.
I  brought one for Ben too because I'm nice didn't want him to eat any of mine.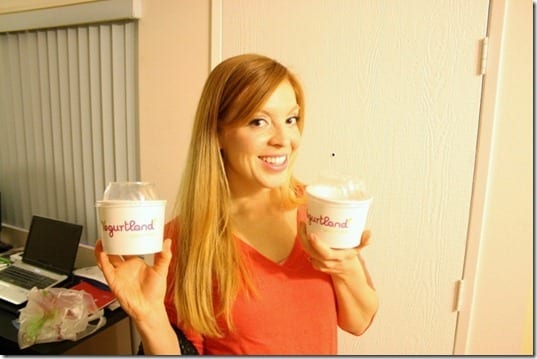 This morning Ben and I woke up early again and decided to take a walk together. We both weighed ourselves this morning and the scale is up
Fail #2. I'm up about three pounds from before Christmas and about 8 from July – ouch. Like I said before, I'm going to track calories for a while to get back on the wagon.
Fail #3. After our walk the sun was up and I was about to go for a run. Then, I glanced at my computer and realized I have a half marathon scheduled for tomorrow not Sunday like I thought. Since I was dressed up and ready to go I cut it to 2 miles and will maybe do some strength later.
Breakfast was an egg scramble with PB&J toast.
Fail #4. I love Laughing Cow wedges for my eggs and use them almost every time. Yesterday I picked up a new flavor – Mozzarella Sun-Dried Tomato and Basil. I don't like it at all
it reminds me of clay.
Question: What are you doing this weekend?
Apparently I have a half mary tomorrow!