Hello from the sky! I'm on a plane headed back to CA, but we have a lot to catch up on!
Let's go back to Sunday…
I planned to do two moderate length runs in Florida because I knew time wise and weather wise doing a 16+ miler would not be very realistic. So, I woke up early again on Sunday morning and busted out 12 miles. I felt surprisingly good considering I did 13 the day before.
I did feel oddly drained though – like almost emotionally exhausted from it? I think it was just that I lost so much liquid from my body these last 2 days. I can't really explain it.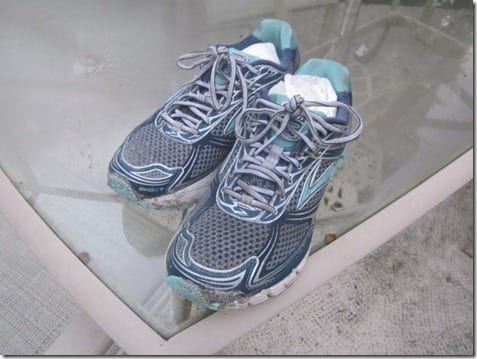 Side note: I'm still not super sold on the two back to back runs. I know I'm not going as far as I should with each LR, but I don't feel nearly as challenged as one mega miler, you know? (Coach Steve feel free to call me out on being dumb.)
After the run I tried to take an ice bath, but the bath water melted this ice immediately and it was luke warm at best. Oh well. "E" for effort.
I felt dehydrated when I was done and not super hungry, but I knew I had to refuel. I had yogurt and fruit while Ben's mom cooked us up some pancakes.
I had one of her super fluffy pancakes with syrup. I don't know how she gets them so fluffy!!
Then, we went to church. I guess God's in Florida too. Weird.
After church and the all important Dunkin Donuts run we had a mish mash of leftovers for lunch. I made a salad and ate the rest of my Public sub.
After lunch my mother in law and I hit up Publix again. If you're keeping count we went 3 times this weekend and she does this all the time. All the employees know her there, it's super cute.
I picked out this ice cream and enjoyed some right when we got back. It's hot. Ice cream helps.
Finally it was time for Ben's birthday party BBQ! That's why we are visiting!! Ben's birthday is Friday and he really wanted to visit his fam.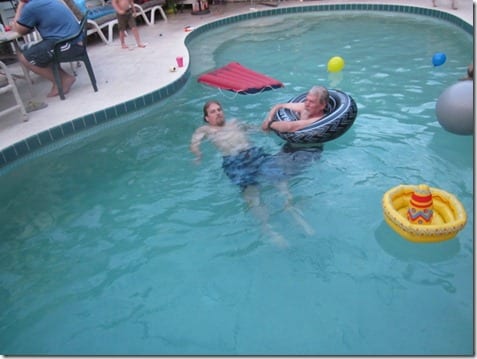 We swam in the pool, ate good food and enjoyed some quality time with everyone.
Vodka and Fresca really made my night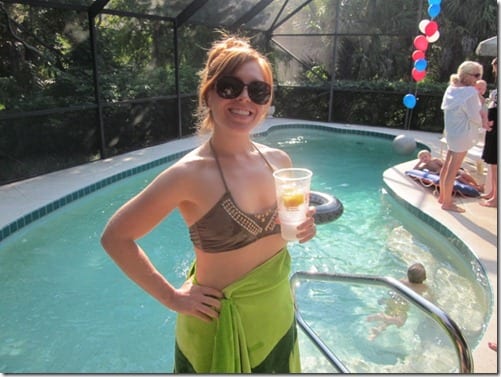 Burgers were on the menu and since I'm trying to decrease my soy intake I decided to have a 'real' burger instead of a veggie one like a I normally do. I picked a small-ish one, but I have never had any stomach problems going from veggie to meat eating. (I was full on vegan for about 8 months and then ate a fast food hamburger out of the blue and it was nothing.)
Since it was a birthday party we had decorations and favors. The baby and I fought over the mustaches…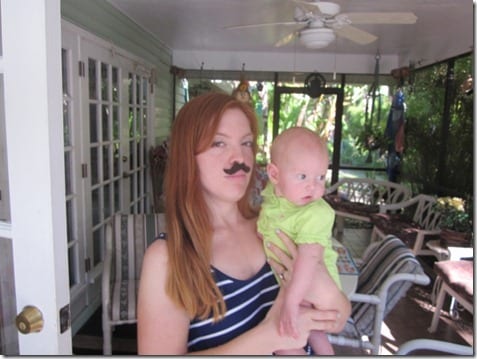 After dinner we sang Happy Birthday. Is it sad he had to light his own candles?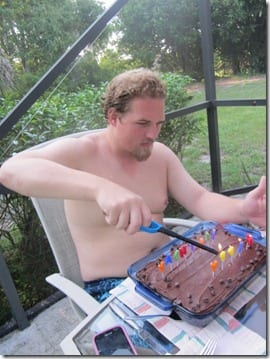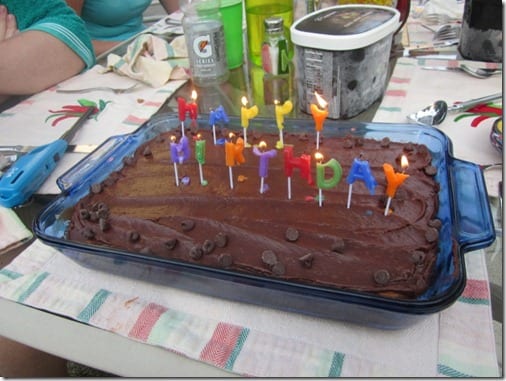 We had marble cake with chocolate chips and more of that amazing mint ice cream.
When it got dark we moved the party inside to play Cranium. I had never played before and really liked it!
Mid-game someone brought over a pizza from a local place with the best pie around. I don't think anyone was even hungry, but it smelled amazing and everyone said it's the best so ended up splitting a piece with Ben when everyone was digging in.
It was some of the best pizza I've ever had. The crust was perfection – that's what really 'makes' it.
But yeah, there was A LOT of good food around this weekend. A LOT – including handfuls of chips and almond M&M's not documented here. I enjoyed it, but it's time to get back on track now!
At the end of the night it was finally time for the main event of the evening = the season finale of Breaking Bad. We stopped the game just in time to watch it. Wow. Now I'm nervous.
Monday fun coming soon!
Question: What did you do this weekend? Any fun Labor Day festivities??