Easy Muffin Recipe for One
Hello! I just made the easiest oatmeal pumpkin muffins of my life. You probably have all the ingredients in your kitchen right now. Try it and let me know.
Before we talk about those muffins, let's talk about running.
The Revel Race series gives you your race photos for FREE!!! This is awesome! Race photos are so expensive – this is a great perk!
Most of the photos from this weekend's Revel Canyon City Half Marathon make me look like an old sweaty chonie head, but here's one of the good ones near the finish line…
This morning I did 6 miles and some post-run exercises for my lil POTM for the day. What are you doing?
And now it's time for this super delicious pumpkin spice muffin recipe. I have been craving a pumpkin muffin but didn't want to bake (and eat) a whole batch. I made this recipe for one muffin using ingredients I had on hand. The best part is – it came out so good! I made the recipe again to make sure it worked for one or two muffins and could be doubled too. Yep.
So make one muffin for a snack or double it and make one for yourself and one for your cat.
Then, when he turns up his nose at it you can have two muffins. Boom.
Super Easy Pumpkin Oatmeal Muffin – for One
(Easy – Low-fat – Recipe for 1 – Gluten free)
Ingredients for one Pumpkin Oatmeal Muffin:
1 packet maple brown sugar oatmeal (use gf oats if needed)
1/4 c pumpkin puree (canned)
1 egg
1 tsp each: pumpkin pie spice & baking soda
dash: salt
2 packets stevia or sugar
Directions:
Pre-heat oven to 350 degrees.
Place all ingredients in blender and blend.
Pour into a cupcake pan sprayed with non-stick spray (or muffin cup).
Optional: Top with oats, dried cranberries or nuts. Bake for 15-18 minutes until set.
Double or triple recipe if you want extras for tomorrow. I made the recipe with one BIG muffin and made a batch with two smaller ones. Adjust baking time as needed.
Day 16 – it's the middle of the week and easy to hit a slump. Don't make excuses. Get moving and do something to make yourself feel good today!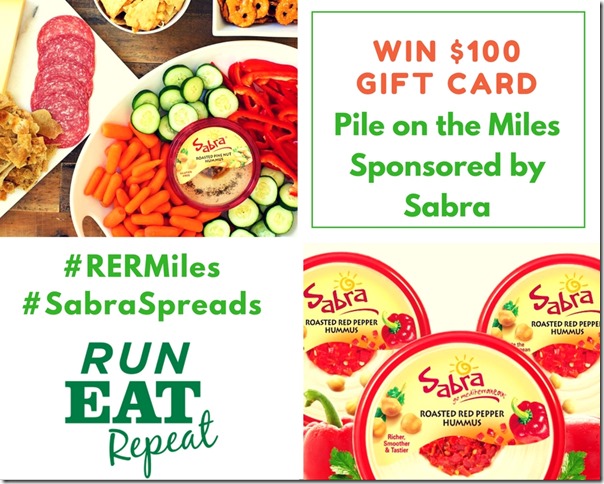 This week's Pile on the Miles Challenge is sponsored by Sabra. They make the BEST hummus ever. No contest. I've tried them all. Check out all the flavors and other products on their site Sabra here.
Check in with your POTM update and you'll be entered to WIN a $100 Amazon gift card.
*Contest Closed*
Update social media with #RERMiles to share your progress and motivate others.
Open to all. Closes tomorrow at 9pm PST.
Question: What's your POTM update for today?
Disclaimer: All opinions are my own. POTM is sponsored by Sabra this week.