Exercise Gear Gift Card Giveaway
But while I'm busy – I have a great giveaway for you…
Apparently someone at Target heard my running capris broke and contacted me to get some running clothes from their line. As you may know from my Summer Running Gear post – I'm already a fan of the C9 for Champion gear so I was all about it.
Target has gotten the hint that women want cute exercise gear so they have a lot of options that are inspired by some of the fancier brands out there.
See, running skirt with ruching up the sides?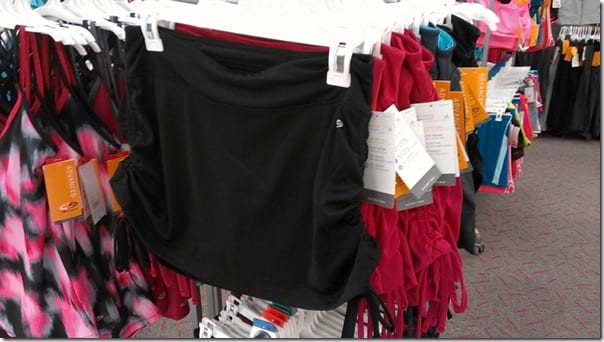 They didn't have the longish tight shorts I loved in the past, but they did have these mesh shorts with a longer pair under. Fight the chub rub!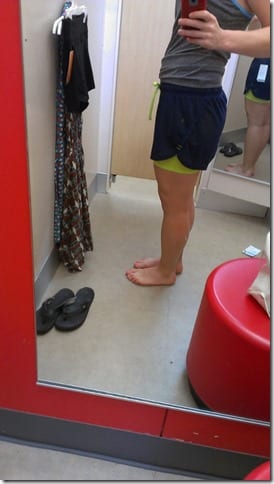 I'm pulling them up a bit here, the shorts on the bottom don't show this much.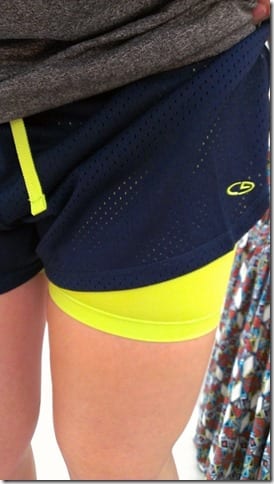 Awkward dressing room photo. Check.
Vegas doesn't think I need anymore sports bras though… Luckily, he is not the boss of me and I do what I want!
They even make special underwear to workout in now! Hmmm. I don't wear chonies under my workout gear, do you? All my running shorts have something built in and/or would be weird to wear with chonies.
Would these be considered a marathong?
You can win a $50.00 Gift Card from Target and buy a marathong of your own! I'm testing out using Rafflecopter for this giveaway, so please be patient as I figure out if I love it or not.
By the way… I am catching an early flight out of LAX this morning so the car is picking me up at 3:45am. Ouch.
I am traveling to NYC as part of my friendship with Sabra – the #1 hummus company in the world! <- That is a fact I verified after years of hummus eating.
Remember last year I went to their plant and saw how they made the hummus? That was awesome.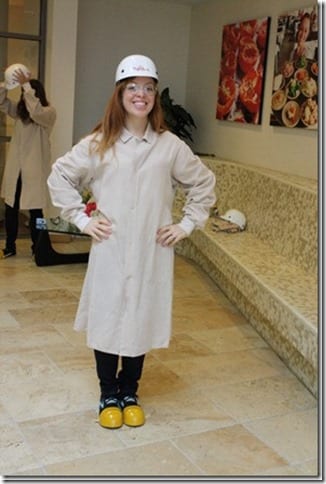 This year we're doing something different and I'll fill you in on all the fun as we go along! Follow me on Instagram and Twitter to see all my antics and eats.