Hello! How's it going? It's the last day of POTM for this week! Are you rocking it? Are you barely getting by? Are you quitting? NO, you're not quitting.
We are in it together for another week. Whatever your goal is – get it done. This is the last push before the holidays and busier times and colder weather and a ton of other excuses that make it hard to stay active. But you promised yourself and the other POTMers that you'd show up and do it.
I had a challenging morning because I found myself in Florida! Wait. That's not the challenging part.
I flew out yesterday and got here last night. For some reason I woke up at 4am eastern time, which is 1am California time?! I decided to just get up and wait for the sun to rise so I could run.
But, I don't know how to use the coffee maker here so I just paced back and forth stressing about life for a while until I remembered I brought a bunch of packets of Spark.
I usually take these mid-morning or early afternoon even though I feel like most people drink them pre-workout or in the morning instead of coffee. I switched it up out of necessity and it worked.
Moral of the story – the Spark saved the day and helped me rally / stall for two and a half hours before I got out to run.
After a good 8 miles I hit up Dunkin Donuts to get my coffee fix.
This evening I went to a rehearsal dinner for Jon and Corey who are getting married tomorrow! I feel like some people are always going to weddings, but I don't have any friends so this is an exciting weekend. The food was great and the weather is great too. Here's hoping tomorrow and every day after that will be awesome!
I did my first Boomerang on Instagram stories. Check it out if you follow me 🙂
Running and Eating and Podcasting news…
Podcast – I was interviewed on the 9 to 5 balance podcast. We talk about running, eating and pooping. Yeah, I try to keep it classy.
This weekend is the We Run the City 5K in Los Angeles. It's a race for a good cause with a fun rivalry twist.
Revel Mt. Charleston half marathon and marathon price increases Nov 22nd! Register now if you want a $10 discount and to avoid the price going up!
Hylete discount still available for a few more days. I'm still digging their crops, tanks and now I'm sporting the pullover too.
Get 40% off your first purchase with Hylete here: http://bit.ly/2eMCNyq
Use code: RER2016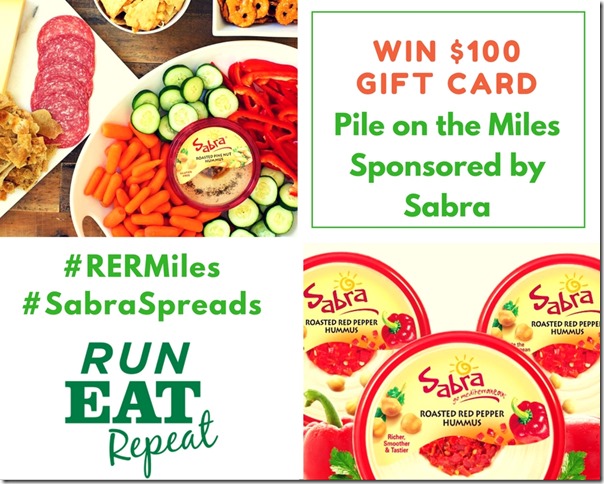 This week's Pile on the Miles Challenge is sponsored by Sabra. They make the BEST hummus ever. No contest. I've tried them all. Check out all the flavors and other products on their site Sabra here.
Check in with your POTM update and you'll be entered to WIN a $100 Amazon gift card.
Update social media with #RERMiles to share your progress and motivate others.
Open to all. Closes tomorrow at 9pm PST.
Question: What's your POTM update for today?
Me: tbd
Disclaimer: All opinions are my own. POTM is sponsored by Sabra this week.
Run SMART Goals
Fill out this form to get the SMART Running Goals worksheet to your inbox!