I really wanted to name this post "Tacos Tacos Tacos Tacos" or "Terry's Tacos" because I love Terry from Reno 911 and the fact that he does inappropriate things at his place of work – Tacos tacos tacos tacos.
Mexican Meatless Mondays are back!
I have never made tofu tacos, so I was just crossing my fingers that these would come out good and they did!
Tofu Tacos:
Press the tofu for an hour (that still didn't get all the liquid out, but it was all the time I had).  I cooked some chopped onions and a little minced garlic until the onions were clear. Then, I crumbled the tofu into the pan and topped it with TJ's Taco Seasoning.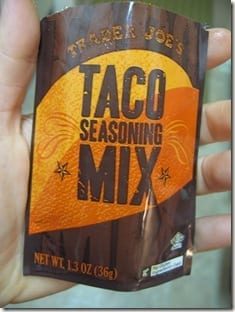 Here is the tofu taco filling: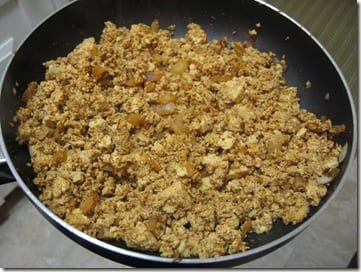 I stuffed the filling into TJ's taco shells and served with a salad. I really really liked this dish! Actually, after we ate I proclaimed that this is my new second favorite meal I can cook!! YUM!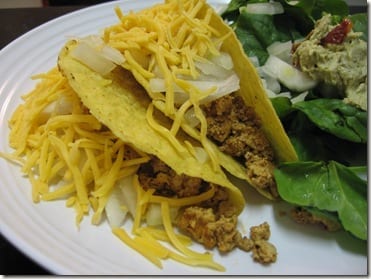 **Edited to add: Ben ate this for dinner too. I don't think he loved it as much as I did, but I had no complaints and he was happy and satisfied 🙂 He said the tofu taco filling reminded him of eggs and soy chorizo – another one of our faves.
Physical Therapy:
Before my taco extravaganza I had a Physical Therapy appointment for my bum knee. Today the PT made me do some of the "homework" exercises with ankle weights. I didn't realize how weak my hips are! I really need to strengthen and stretch them to get better.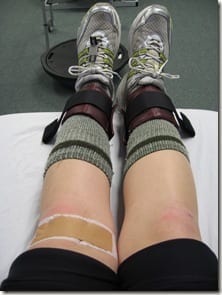 My afternoon snacks were uneventful and included an apple and Almond Butter slathered rice cake. Plus some chips 🙂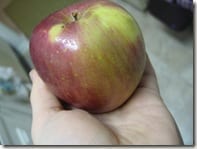 I bought a new yogurt I may try for dessert, but other than that I'm laying low tonight.
See you in the morning 🙂