When I mentioned that changing how I fuel for a marathon changed EVERYTHING about the race – everyone wanted to know if I got into Lance Armstrong's stash what I was eating?!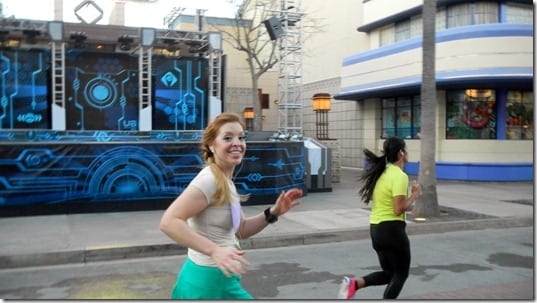 Figuring out what/when to eat and drink while training for a marathon is a very very important part of training. And everyone is different – some people can't handle certain types of gels/chews/drinks. I don't know if you know this, but I am a red headed Mexican that eats Sriracha for breakfast, so my stomach is like an iron cauldron = I can pretty much take anything
If you are a little sissy lala that thinks you can't eat during a run – figure it out (hey, the full marathon is tough so I have to be tough with my advice). You have to stay hydrated and full of shug-ah to run a full marathon without wanting to die.
Okay, that's a lie.
You'll probably want to die even if you fuel right, but your blood sugar will be stable enough to talk yourself out of it.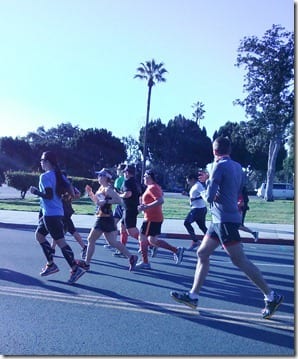 Again, all of this information works for ME a person who:
is a very salty sweater / sweats a lot in general

got bad cramps in her quads around mile 20-22

drinks A LOT of water in general

likes margaritas – it's relevant, trust me.
You should identify what your body's needs are and fuel accordingly.
Training for a Marathon – How I eat before the race
In the week leading up to a full marathon I eat at least one banana a day. This helps prevent my quad cramp issue.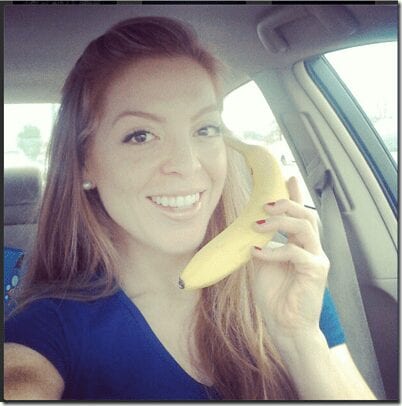 I love them and don't care if I turn into one…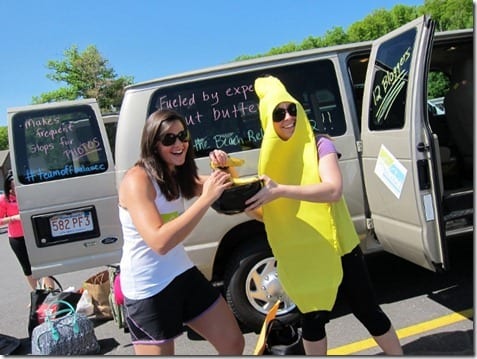 I also try to stay hydrated.
Luckily, my friends are super supportive of my hydration needs…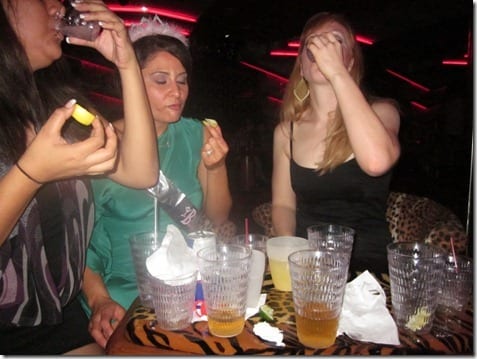 The morning of the race I'll have oatmeal or PB Bagel/Toast with a banana. Both work for me, doesn't matter what I go with.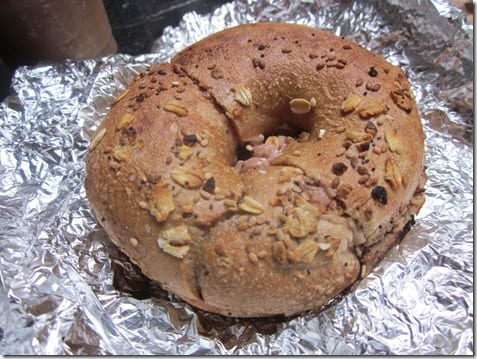 Confession: I often put salt on top of the PB bagel/toast too. I need a lot of sodium on race day.
How I eat during a marathon:
I eat 3 Margarita Shot Blocks at Mile 5, Mile 10, Mile 15 and at Mile 20 I have a chocolate gel of some sort <- because it's delicious and I look forward to the chocolate goodness.
I love the Margarita blocks because they have more sodium than the other flavors. Each package has 6 in them, I eat half a pack every 5 miles. I cut the packs in half so they're easier to eat during the run. I usually put 2 in my spibelt and one in my sports bra.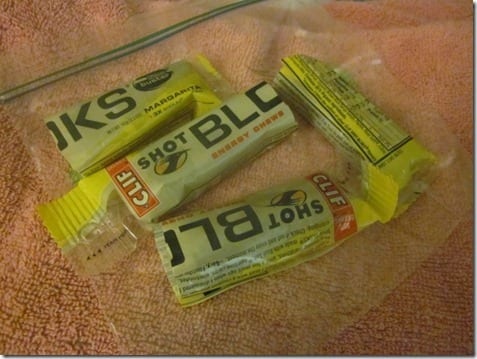 Sometimes I skip the first water station unless I'm thirsty but drink at all the other ones. If it's hot I dump water on my head. If it's super super hot I dump water on someone else's head. This way they chase me and I have to keep running even though I want to sneak off the course and eat ice cream.
Normally there is a spectator with oranges or popsicles or horse meat corn dogs and I might grab that if I feel like it. In NOLA they were handing out animal cookies. God Bless it.
But, I am only one peep so I polled a few of my marathon runner friends to chime in with how they fuel during a race.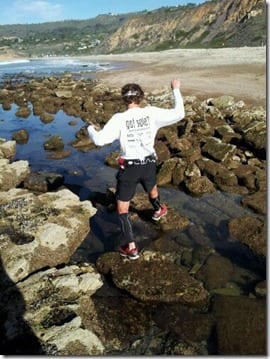 Coach Steve: Averages a Sub 4 hour marathon.
I've been trying a lot of different foods. I try to consume 200 calories per hour. At Surf City Marathon I had two brownies that I ate on the run starting at mile 5 and finishing them by mile 13. At mile 15 I started taking an Island Boost gel every 3 miles. I also was drinking water with electrolytes in it  and had cup with Nuun in it at mile 20 for more electrolytes. For Fuel and Hydration I follow the Sole Runners 10-30-45 rule. Drink every 10 minutes, take electrolytes every 30 minutes and eat every 45 minutes.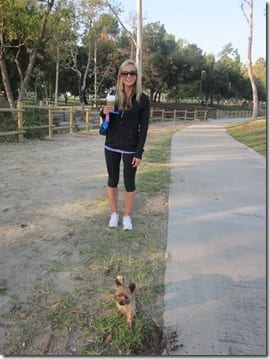 Skinny Runner: I eat four gels throughout a race and usually at the same points: mile 8.5, 13.5, 18 and 22.  (about 15-30 minutes before a race ill eat an energy bar.)
I've also eaten candy during marathons which is fun, but if I'm taking the race seriously, I go with gels.  They're habitual and I don't have to think about how many calories I'm taking in, ("was that handful of gummi bears the same as one gel or half?!"), and they're easy to suck down and get energy in quickly.
I also drink water from nearly every aid station and switch it up with sports drinks in the later part of the race.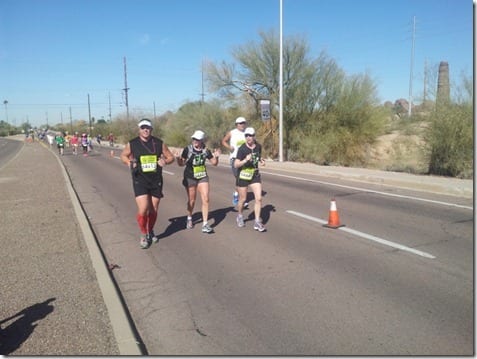 Dave: I fuel 5x with GU and just started eating a snickers marathon bar at the half way point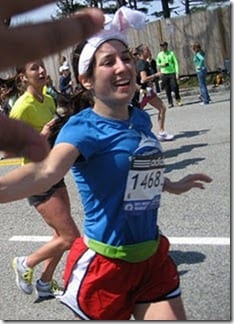 Margot: My PR is a 3:32.  I eat a lot – I would say a gel with caffeine every 5-6 miles and sports drink at almost every water stop. 
Breakfast before us usually 300 or 400 calories…Luna bars or something a couple hours before race time.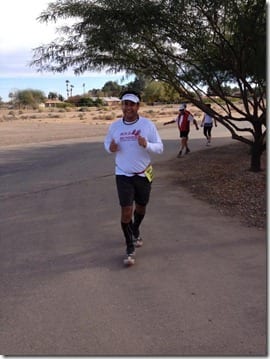 Hector (doesn't have a blog because he's too busy running ultramarathons every weekend!): Average 4:50, I try to eat a bit of bar every 30-45 min. Gels tear up my stomach.
See? We're all different. So, the real answer to the Question:
"What is the best marathon nutrition plan?"  is…
Everyone is different. Make sure to figure it out during marathon training. Experiment with different gels, chews, bars before and during your long runs. Show up on race day already knowing WHEN and WHAT you are going to eat and drink.
And because I am a big fan of  Cliff Shot Blocks – the company is sending one RER reader a box of them to fuel their runs!
To Enter: Leave a comment with your favorite race distance. Any distance – even around the block works!
Open to residents of the US. Closes 3/14/2013 at 8am PST