I came across two crazy new food finds today. I love trying new food 🙂
Can you guess what the first one is? Here is a picture:
Did you guess Salt & Pepper Fava Beans? If so, you're right!
The other find isn't as crazy, but I'm crazy about it!
Kashi has a new cereal out – Go Lean Crisp. I am obsessed with most things Kashi, so even though I left my Kashi cereal coupon at home (I thought I brought my coupons, but forgot them) I had to have it! I seriously ripped into this box as soon as I got into the car.
This is similar to the Kashi Crunch – but better. It's not as hard and deadly to your mouth (c'mon we all know Go Lean Crunch is killer hard!). I.Love.It. New obsession all the way. Thank you Kashi 🙂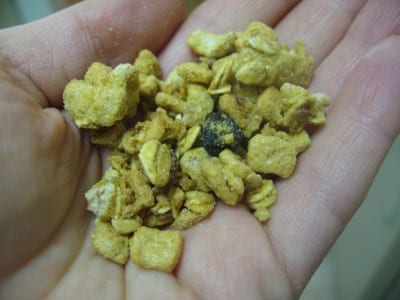 The only negative is the high calorie count for 3/4c serving. Their other Go Lean Crunch cereals have a 1 cup serving size with the same calorie count.
My other eats for the day included a fabulous salad bar run. I think this container is meant as a party tray. Ha.
And cookies 🙂 Cookies are a necessary evil in my life lately… I had super high expectations for these cookies because I've been eyeing them for weeks and they were on sale today. But, they were just okay.
In other news, my case of seltzer managed to rip open on the way into my apartment and fall everywhere. I only lost one though 🙂
Random Monica Fact: Lately I've been completely loving your comments. So many times in the last few days I've read your comments and loudly said "Ha!" (when they're funny) or "Awwww! That's so sweet!!" (when they're sweet and supportive).
Thank you 🙂